Agents Reveal Their Genius Green Secrets to Staging a Home for Sale By Kristine Hansen
Kevin Kurland, an agent with Home by Choice, faced a challenge when helping a bachelor prepare his two-bedroom, two-bath City apartment for sale. "His decor color palette was very singular: tan," says Kurland. "There was no life to it."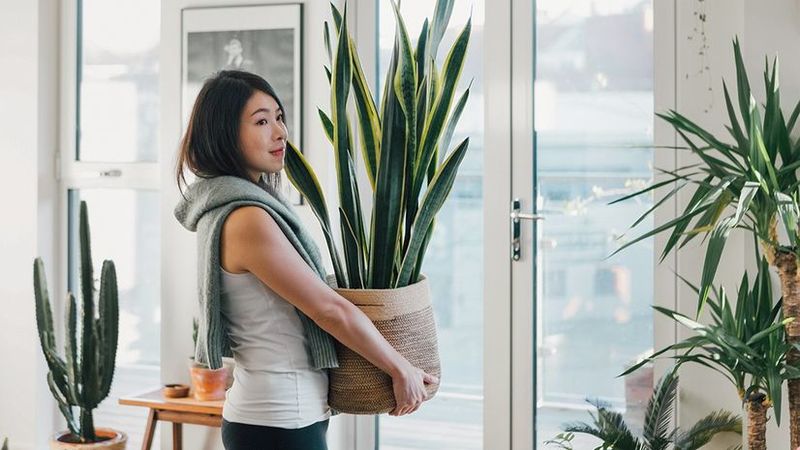 But Kurland had a secret ingredient for enlivening the space: adding colorful and sculptural plants. 


Similarly, an art deco home on the market in the suburbs had a sunroom that needed a quick refresh. Enter 15-foot-tall palms in pots. 


"The home sold that same weekend," says listing agent Steve Appel, of Monument Sotheby's International Realty. 


Despite these selling successes, there is a fine line between a home staged with a soothing plant-scape and a home that's essentially a messy plant jungle. 


"Since the [COVID-19] pandemic, people have gone crazy with plants," says Chris Spade who's with Keller Williams Realty. "There's been a few clients where I've had to edit their plants down." 


So if you're about to put your home on the market, understanding how to incorporate greenery and succulents to cozy up the vibe may be the difference between the listing dying on the vine—or sprouting interest. Here's what you need to know. 


Why stage with plants 


"Plant staging is an untapped market," says Kristina Hunter, CEO and founder of Green Leaf & Grace. "The difference between a home with or without plants is startling. Buyers feel that plant energy when they walk in." 


Plants particularly add flair to spec or contemporary homes with minimalist interiors. "Most of the houses I work with are modern and can seem 'cold,'" says Nelson Gonzalez, EWM Realty. "Plants warm them up." 


Plants hold other benefits, too, like commanding a higher offer. "The right plants in the right location will absolutely get a higher price," adds Kurland. 


Indeed, Hunter plant-staged her own home before it hit the market—and it paid off. 


"Within four days, we had 24 offers for more than we could have ever dreamed of," says Kurland. "Each potential buyer wrote us a letter about how much they loved all the plants and wanted to keep them." 


Choose low-maintenance plants with impact 


You want to stage with low-maintenance plants that won't create a mess for showings or appear half-dead, which might turn off a buyer. 


"Avoid plants that drop flowers or leaves as these can be difficult to keep clean," says Rinal Patel, co-founder of We Buy Homes. "Try growing an aloe plant, holiday cactus, jade plant, lucky bamboo, or snake plant. These thrive when they're ignored." 


Other great plants to stage with include broad-leaf fig trees and areca palms, which are versatile because they don't need a lot of light. 


Just nix any plants that activate allergies. "These are plants that flower and have pollen," says Patel. "Some shrubs, vines, and herbs can also be bad for allergies." 


Mix and arrange plants 


Just like floral arranging, there's an art to displaying plants. Keller Williams Realty's Spade starts with a showpiece plant—like a ficus—and surrounds it with two or three succulents. 


Or you could try small, medium, and large plants with at least one extra-large stunner in either the entryway or main living space, says Hunter. 


"Some plants blend in seamlessly into a home and may not be noticeable, so I like to have at least one plant that says, 'Hey, I'm here! Look at me.'" 


But just as with photo frames, books, and dishware, the least amount of plants you can get away with the better. "You don't want the client only to remember the plants," says Amir Maxwell, a listing agent with Home by Choice. 


Use plants to showcase a home's features 


Use bright green plants to draw attention to a home's amenity, such as a fireplace or row of bookcases. And use vertical plants, such as a spider plant or a small tree, to show off a ceiling's height. 


"Hanging plants are an excellent way to draw your attention in and to a focal point in the room," says Spade. Another trick is to think of plant staging like hanging art—you need to see it from all angles. 


"I go out in the hallway and enter the apartment to see what a plant looks like when I walk in," says Kurland. 


Don't forget stands and pots 


Staging a home is not the time to weave eye-catching pots and vases into your decor. 


Broker Becki Danchik went the extra mile in her plant staging. She incorporated a plant stand with a bold design similar to the homeowner's existing geometric vase on a nearby coffee table. 


"It created a cohesive visual," she says. "That is how you get that 'wow' response from buyers when they walk into a room for the first time." 


The new way to sell, lease and buy property 


At the new SSB real estate platform for sellers, buyers, agents and property professionals? 


There are no monthly or annual payments, no registration or listing costs, zero charges for single or multi-uploading and no sales or marketing fees adding reach and capture to your current sales campaign at zero cost! 


Saving you and the team tens thousands on listings and sales costs to present residential, commercial, H&L packages, rural, business and investment properties for Sale, Lease or Swap. 


SSB
are NOT agents, resellers or lead generators. We are an independent Australian owned and based real estate platform adding an Additional Marketing Channel to connect you directly with buyers, owner-sellers, investors and developers at no cost. 
---