How one developer Assemble is changing the game for first home buyers
By Alison Warters & SSB
"How are we going to be able to afford property?" That's the disgruntled question often muttered when first home buyers start looking at getting on the property ladder.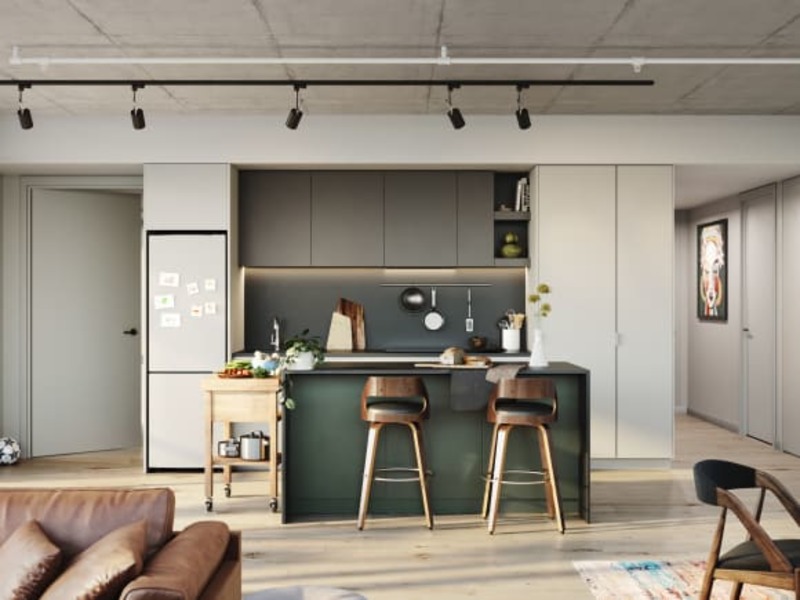 Runaway property prices have seen young prospective buyers either compromise on a number of factors of a purchase, whether it be location or number of bedrooms, when buying their first apartment. Some will stay living with their parents, and some will turn to renting. 


One of Australia's most innovative developers, the affordability-conscious Assemble, has a unique model which has already helped many young Australian's get in to the property market. 


Rather than the traditional build to sell (we develop, you buy) model, which has out-priced many, their Build to Rent to Own offering (known as Assemble Futures) allows prospective buyers to rent apartments, with a free option to buy, after five years.  


What are Build to Rent to Own communities and how do they work?


Assemble began with Assemble Futures, previously known as the Assemble Model, offering an alternate pathway to home ownership, enabling residents to rent securely for five years, with the option to buy their home at the end of the lease period. 


In June 2020, Australia's largest superannuation fund, Australian Super invested into the company, with a focus on supporting the expansion of the Assemble Futures model to help address housing affordability and create better access to homeownership. 


"Assemble​ Futures supports first home buyers into homeownership by enabling them to move in and experience their home and community for five years, while saving for a deposit to buy it," Assemble's​ director of marketing and relationships, Rebecca Shackleton, told Urban. 


"It protects them from shifts in the property market as they lock in the future purchase price of their home, and leases are renewed every 12 months, so if life takes them elsewhere, they have the flexibility to leave after the first 12 months." 


The hybrid Build to Rent model offers stable rents, certainty of tenure, financial coaching, and community services, giving residents the option to purchase after a five-year lease period at a pre-agreed price. 


This pricing stability creates a pathway to homeownership that supports Australians with a moderate income, as defined by the Victorian State Government. 


Assemble's ambition is to challenge Australia's unfair housing system, with a focus on developing pathways into high quality, sustainable, stable housing. 


"With a deep respect for people, place, and planet, we deliver housing and create communities that embrace diversity, reflect local culture, and nurture a stronger sense of ownership and belonging," Shackleton said. 


Assemble, starts construction on its newest Build to Rent to Own development, this month. MAKE - Assemble's parent company, spent $30 million on the site, which is the third project by the group in the inner suburb. 


Construction firm, Hacer Group has been awarded the contract to deliver the Kensington project valued at $190m, designed by Hayball with landscaping by Oculus. 


Assemble Managing Director, Kris Daff said support by the Government, planning authorities and Australian Super, demonstrates confidence in offering Australian's alternative pathways into home ownership. 


"Kensington is a highly prized inner-city location, and this approval unlocks access to design-driven, sustainable and community-oriented apartment living," said Daff. 


 Earlier this year Assemble secured rezoning of two prime industrial sites for future residential development. 


Daff said it was a strong move that ensures Australians will have an appropriate supply of social and affordable housing to meet the critical shortfall. 


"We are now a step closer to delivering over 1,600 social and affordable housing units, along with much needed health, commercial and retail outcomes, for communities," Daff says. 


There is a new Aussie real estate platform, there are no registration or listing fees, no monthly or annual costs and no marketing charges saving sellers, developers, investors, agents thousands on each listing. 


Buyers and renters benefit from the competitive savings owners, developers, investors and agents can pass on to BUYERS for a win, win, win deal. 


Importantly buyers, investors and renters can be confident that every property listed with SSB has accurate details and the sale prices and rent cost are displayed upfront. 


And Buyers and Renters make  "Direct Contact" with the decision maker for viewings, negotiations and getting the deal done saving more time and money. 


See Property News at
SSB
. 
SSB is Not an agent, reseller or lead generator, we are an Australian owned FREE service providing an additional online real estate channel that adds significant market reach, exposure and capture for sellers, buyers, renters agents and developers. 


---