Auction listings double as sellers rush to beat Christmas By Nila Sweeney
Australia is heading into its biggest auction period to date, with a record 4354 homes listed over the week, as vendors nationwide race to get their dwellings onto the auction block before the market corrects and prices ease.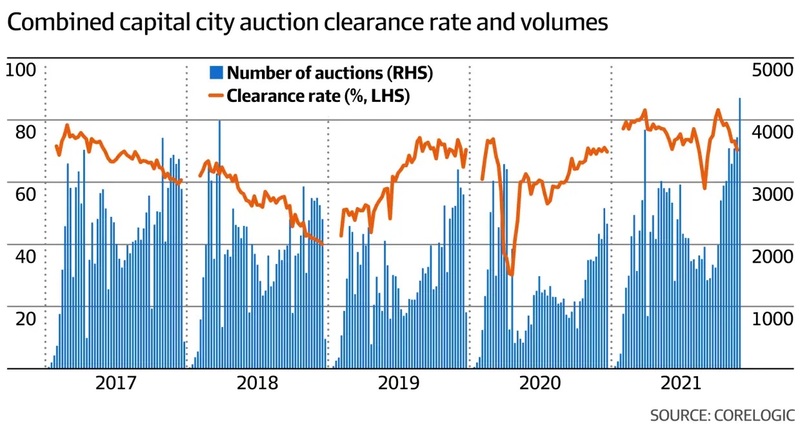 Auction listings jumped another 17 per cent this week over last week and were double that of the corresponding week last year, with the traditional spring surge delayed by lockdowns then turbocharged by the easing of restrictions. 


"This is going to be the biggest test for the housing market since the onset of COVID-19," said AMP Capital chief economist Shane Oliver. 


"Buyer demand remains strong, but the higher listings will still test the market and act as a dampener." 


House prices have surged 22 per cent this year. But analysts expect the rate of growth to begin easing next year, with some forecasting the correction could take hold as early as mid-2022 as buyer fatigue sets in and the cost of home loans rises. 


With the end of this year's extraordinary and unexpected housing boom in sight, auctioneers this week are being rushed off their feet in the scramble to sell. 


Five days, 45 auctions 


"We've got a record week of auctions this week, and I'm doing 45 auctions between Wednesday and Sunday," said Alex Pattaro, Ray White Sydney chief auctioneer. 


"I've never seen so many auctions coming into the market this close to Christmas, so we're reverting to Sunday auctions, weekdays and in the evenings to cope with the high demand." 


Sydney, Adelaide and Canberra have each posted their largest auction volumes this week, while the national tally is also the highest recorded by CoreLogic. 


Auction volumes could rise even higher in the weeks before Christmas, says Tim Lawless, CoreLogic's research director. 


"Historically, auction volumes peak some time between the final week of November and the second week of December," he said. 


"Considering the selling season was pushed back a little due to lockdowns, along with the strong selling conditions, it's likely we will see auction activity peaking a little later this year. 


"At the moment it's looking like the week of December 6 and 12 could see an even larger number of auctions held, potentially setting a new record for the volume of auctions held." 


This week also marks the first time auction listings across the combined capitals will exceed 4000, eclipsing the previous high of 3990 in the week ended March 25, 2018, when house prices started falling sharply. 


In Sydney, there are 1656 homes scheduled to go under the hammer this week, 308 homes in Adelaide and 183 in Canberra. 


Melbourne is expected to host the largest number of auctions this week, with 1898 homes – a 14.5 per cent rise over the week and more than double the number of auctions this time last year. 


Auction volumes nationwide have risen strongly since bottoming out in September. Since then, the number of homes taken to auction has climbed about 10 per cent each week for a total increase of more than 200 per cent. 


Impact on clearance rate 


The high number of properties for sale has started to temper the frenzied competition between buyers, leading to falling clearance rates. 


Since its recent peak of 83.2 per cent in October, the clearance rate has dropped to 70.3 per cent this week – a similar level achieved last year. Across Sydney, the clearance rate had dropped to 68.7 per cent last week – its lowest level this year. 


Melbourne's clearance rate has also trended lower since the peak of 85.3 per cent in early October. Last week, the clearance rate had fallen to 68.6 per cent from 71.8 per cent in the previous week. 


"I really feel for vendors at the moment because it was only six weeks ago that we were just seeing massive premiums and very strong pricing, but as soon as the lockdown ended, the market was flooded with new listings, which has resulted in fewer bidders and lower selling prices," said Clarence White, auctioneer with Menck White Auctioneers. 


Mr Pattaro said buyers were becoming cautious and no longer paying the price sellers were hoping to get. 


"The buyer FOMO [fear of missing out] is gone and many are on the fence and more cautious," he said. 


The falling clearance rate has already weighed on CoreLogic's home value index. 


"Tracking the rolling monthly change across CoreLogic's daily index shows a further fade in the pace of capital gains across Sydney and Melbourne," Mr Lawless said. 


"Based on the trend to date, it's looking like both cities will finish November with a monthly growth rate lower than 1 per cent. 


"Growth rates are fading across the largest cities, but in Brisbane and Adelaide the pace of gain seems to be gathering some momentum as the monthly growth rate remains at cyclical highs with values rising at a monthly rate of more than 2 per cent according to the daily series." 


Buyers Benefit 


There is a new Aussie real estate platform, there are no registration or listing fees, no monthly or annual costs and no marketing charges, saving sellers and agents tens of thousands on each listing. 


Buyers and renters benefit from the competitive savings owners and agents can pass on to them. 


Importantly buyers, investors and renters can be confident that every property listed with SSB has accurate details and the sale prices are displayed upfront making sellers super competitive. 


And there is direct contact with the decision maker for viewings, negotiations and getting the deal done. 


See Property News at
SSB
. 
SSB is not an agent, reseller or lead generator, we are an Australian owned Melbourne based FREE service providing an additional online real estate channel that adds significant market reach, exposure and capture to your current marketing campaigns. 


---