Race for homes sees buyers running at fastest pace for five years but price jumps fading By Ben Wilmot
Homes are selling at the fastest rate in five years after being listed for sale and vendors are responding with record numbers going to market, but Deutsche Bank has warned that the peak might be already have occurred for house price growth.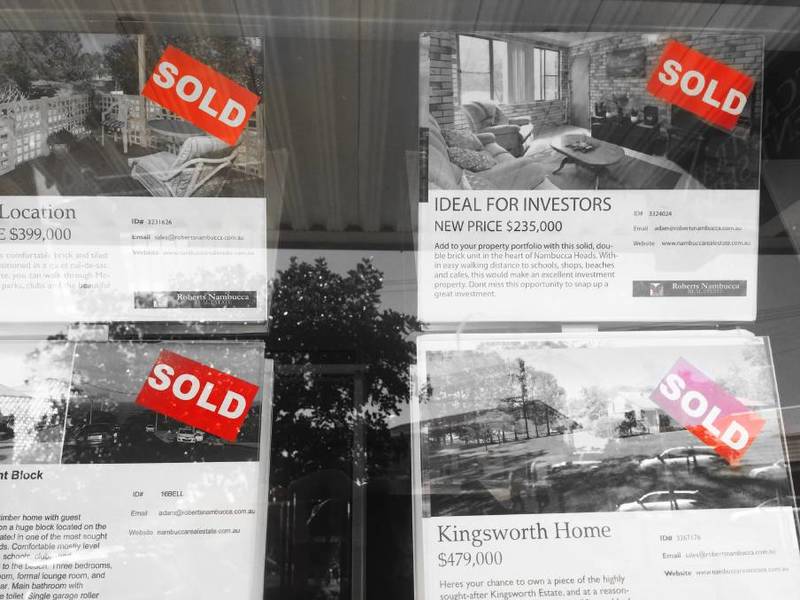 The bank's chief economist, Phil Odonaghoe, said that auction clearance rates in Sydney and Melbourne had fallen around 10 percentage points in recent weeks, with capital city clearances slipping to about 76.1 per cent from well above 80 per cent. 


Mr Odonaghoe said the lower clearance rates had emerged within days of the Australian Prudential Regulation Authority tightening macro-prudential policy, and fixed-term mortgage rates lifting, which could put the brakes on the rampaging market. 


"While there is evidence pointing to a peak in price growth, the case for outright price declines is far less compelling," he said. Deutsche Bank still expects that by the end of 2022 house prices will be around 5 per cent above current levels, which is a slow down on the present pace of 20 per cent annual growth. 


"The most likely driver of a deeper downturn in prices would be a sharper-than-expected rise in interest rates. But sentiment matters as well. History shows that Australian housing market sentiment can prove as fickle as fundamentals are strong," Mr Odonaghoe said. 


On the ground, new sale listing have surged and buyers are moving quickly to snap up the stock that is offered and the average time a property was listed on realestate.com.au before selling fell to just 31 days in October, a full week faster than in September, according to the PropTrack housing market report. 


The combination of cities coming out of lockdown and pent up demand has produced strong results at auction and beforehand as buyers nab properties. 


"Indicators of buyer demand show property seekers are extremely motivated, with search volumes reaching record-highs in mid-October," PropTrack economist Angus Moore said. He said that high demand, combined with a lack of stock available for sale due to the impact of extended lockdowns, had created strong competition. 


"Buyers are having to move quickly when they find a property they like. The median number of days on site – the amount of time a property is listed on realestate.com.au before selling – has reached its fastest level in five years," he said. 


Demand was strong across the country in October, with historic high views per listing in Melbourne, Brisbane, Adelaide and Canberra, as well as nearly all regional areas. 


The company said high demand was translating through to sales, with weekly sales volumes reaching their highest level this year at the end of October, up 14 per cent month-on-month. 


Search activity on realestate.com.au continued to climb, reaching record-highs in mid-October, up 1.9 per cent month-on-month. Mr Moore also cautioned that price increases were unlikely to continue at the same pace. 


"The surge in prices we've seen over the past year will likely start to ease given the benefits of lower mortgage rates are likely already baked into prices," he said. 


The regulatory climate has also shifted, with Mr Moore saying the market was facing into some emerging, though distant, headwinds. 


"The banking regulator APRA has tightened how banks conduct serviceability, which will reduce the maximum amount some buyers can borrow, and the RBA has flagged that interest rate rises – while still a way off – may come a little sooner than previously expected," he said. 


But he expects only a small impact for now, and tips strong selling conditions continue through to the end of the year and into 2022. 


PropTrack said that new listings had soared to new heights in October as sellers flocked to the market. New listings across the combined capital cities reached the highest number on record after a 21.9 per cent leap. 


Nationally, it was the busiest month of new listings on realestate.com.au since October 2018 and the lifting of restrictions prompted a flurry of activity, with new listings in Melbourne up 35 per cent month-on-month, with Sydney and Canberra up 26.2 per cent and 30.2 per cent respectively over the period. 


Mr Moore said strong market conditions in October were driven by the peak of the spring selling season in most capital cities, combined with the easing of lockdown restrictions. 


There is one way to  see the real price and  save tens of thousands on costs and charges 


Real estate agents, property owners, developers, builders and investors can now present land, residential, house & land packages, commercial and business properties for Sale, Lease, Swap or Investment 100% Free. 


At SSB there are no registration costs, no listing,  no monthly or annual charges and no marketing fees and, zero costs for multi REAXML upload listings. A further value benefit significantly increases brand awareness, market reach and client capture connecting directly with buyers, investors, tenants, sellers and swappers worldwide. 


Buyers and renters can see the real price and benefit considerably from the competitive savings owners and agents can pass on to you. 


SSB is not an agent, reseller or lead generator, we are an Australian owned Melbourne based FREE service providing you with an additional online channel that enhances your current marketing campaigns adding exposure and adding value to income streams by connecting you directly with buyers, owners and investors. Have a look it really is 100% cost free at
https://sellitswapitbuyit.com
  (SSB). 
---