Inside the 1970s 'beach shack' named the BEST holiday home in Australia for 2021 - complete with a swimming pool, covered deck and fire pit By Sophie Haslett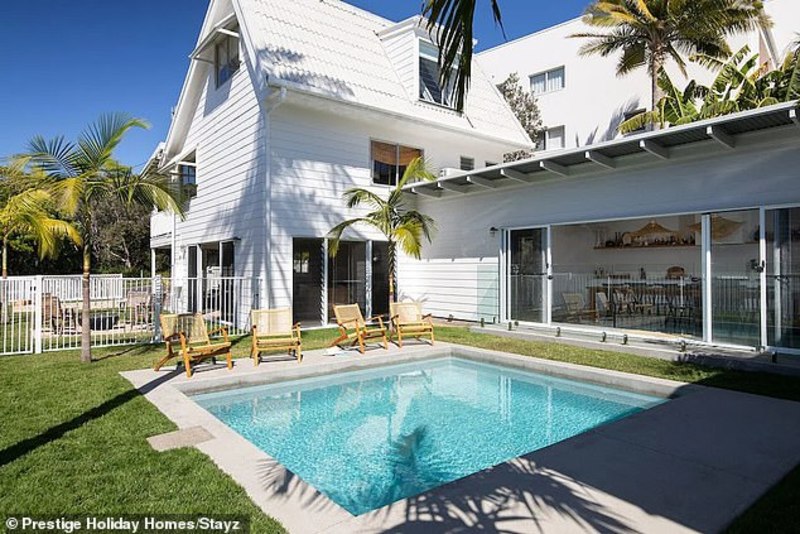 ·       A '1970s beach shack' is named the best holiday home in Australia for 2021 
·       Barra Luxe Beach House was converted into a super stylish modern beach house 
·       The property boasts a fire pit, covered deck and swimming pool to relax in 
·       It beat out stiff competition from New York-style lofts and converted churches 


A 1970s shack' that has been transformed into a stunning luxury beach house has won the award for the best holiday home in Australia for 2021. 


Barra Luxe Beach House, situated at Park Arkwright on the Sunshine Coast, beat out stiff competition from properties in Victoria, WA and the
NSW
Far North Coast to be named best at the Stayz Holiday Home of the Year Awards. 
Boasting five immaculately-styled bedrooms, four bathrooms and all the mod cons of a stylish beach home, Barra Luxe Beach House offers luxury beach living within a few minutes walk of the excellent Yaroomba Beach. 


The home - which sleeps 12 and costs $901 per night - comes with a swimming pool, covered sun deck and stylish finishes like whitewashed floorboards, polished concrete floors and living spaces that are flooded with sunlight. 


Guests can enjoy use of the outdoor fire-pit, shower and barbecue. 


There are loggerhead turtles, sea hawks, black cockatoos, dolphins and whales often spotted at the nearby beach. 


Those who have been lucky enough to visit Barra Luxe Beach House have left glowing five-star reviews on Stayz. 


'What a fabulous house with lots of separate gathering areas!' one recent reviewer wrote. 


'We were five longtime girlfriends away for a three night stay to regenerate the batteries and this place ticked all the boxes.' 


Another added: 'We had an amazing weekend at this property and thoroughly enjoyed our stay'. 


A third wrote: 'Barra Luxe Beach House is a beautiful large home with great facilities and separate areas with four bathrooms so it's perfect for large groups and accommodated our group of 11 very comfortably'. 


The Stayz Top 10 Holiday Homes of 2021 included Barra Luxe Beach House, as well as a New York-style loft retreat in South Australia, a converted church in Victoria and another beachfront getaway in WA. 


'The winning homes reflect today's travel trends, where we're increasingly seeing holidaymakers take frequent and sometimes last-minute road trips to private holidays houses in coastal locations,' travel expert at Stayz Simone Scoppa said. 


'The homes are reflective of the different tastes that Aussie families have in homes from luxe coastal experiences to unique regional accommodation.' 


An Introduction to SSB a new free Australian real estate service 


Introducing a new Australian property service providing a secure self-managed platform enabling property owners, developers and agents to save thousands on every listing, including all CRM XML auto multi-listings, presenting residential, commercial, H&L packages, business & investment properties for Sale, Swap, Lease Free, 100% zero cost. 


There are no registration fees, no marketing costs, no listing fee's and zero lead charges. It really is Free including for XML auto multi listings via your preferred CRM provider. 


You get 24x7 access to your property listings and can edit the content, pics, videos, price and viewing dates. All inquiries from pre-qualified searchers go direct from the searcher to your nominated personal email Inbox. 


SSB is not an agent, reseller or lead generator, we are an Australian owned Melbourne based FREE service providing you with an additional online channel that enhances your current marketing campaigns adding significant market reach, exposure and capture potentially  adding value to income streams by connecting you directly with owners, investors, developers and buyers. Have a look it really is 100% cost free at
https://sellitswapitbuyit.com
  (SSB). 
---