Property Highlights: Australian Luxury Market Update
by Sean Briggs & SSB
Last week the Australian luxury property market recorded 20 new high-end listings worth approximately A$160 million.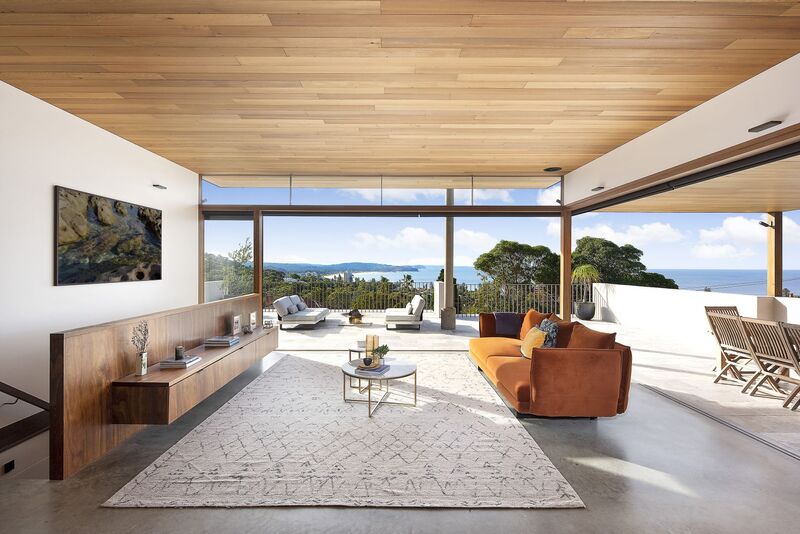 The week's biggest industry news is the Reserve Bank of Australia announcing the increase of its cash rate target by 50 basis points to 0.85 per cent. It is the biggest single-month rate increase in over two decades. 


RBA Governor Philip Lowe says the bank expects inflation to continue to increase over the year before returning to the target range of between two and three per cent in 2024. While not slated to have a major impact on high-end property buyers, it could slow down demand throughout the broader market. 


Of the nine new luxury homes for sale in New South Wales, a contemporary beach house at 29 Suffolk Avenue in Collaroy is the real gem. The three-level residence is the perfect seaside sanctuary in a suburb that has experienced an incredible five-year growth rate of 73 per cent with the median house price sitting at A$3.6 million. 


Held by Brendan Pomponio and Joshua Perry from Belle Property, this modern home is the ultimate entertainer's dream with a flowing layout presenting views of the coastline and bushland on the Long Reef Headland. 


In Victoria, five new listings are crowned by a spectacular Victorian Italianate mansion in Kew held by Anabelle Feng and Ted Jao from RT Edgar. 


The grand landmark residence at 896 Glenferrie Road has a price guide of between A$9.5 million and A$10.45 million and sits in the affluent suburb of Kew where the annual growth is 17 per cent. Formerly the home of prominent architect Alfred White, the 130-year-old residence blends period grandeur with modern luxury across 1,152 square metres of premium Kew real estate. 


Over in Queensland, a stunning modern masterpiece sits in the exclusive Sanctuary Cove estate where the median house price is A$1.3 million. Managed by Matt Gates at Ray White Prestige Gold Coast, the sprawling luxury property at 1828 Pinehurst Drive enjoys 24 metres of pristine golf course frontage, presenting a premium golf buggy lifestyle. 


Spread across more than 1,000 square metres, the contemporary retreat rests within easy reach of beautiful resort amenities including Sanctuary Cove's golf courses, stunning marina, designer shopping and cafes. 


On the west coast Michelle Kerr, founder of DUET Property Group, one of Western Australia's top-selling agencies, says the recent interest rate spike will start with a more psychological impact on luxury property buyers in Perth. 


Interest rate rises have more of a psychological effect more so than a financial one. We're coming off a decade long, very low base, quite cheap and easy money… And then if we end up having three, four or five interest rate rises, then it will start to actually bite the hip pocket and become more of a financial decision. 


I think first and foremost, what you're going to see is it's going to force a lot of people to reevaluate how much money they can borrow… So what will happen is people will now make buying decisions based on their hip pocket rather than where they actually would like to purchase. 


She also mentions the rising cost of building and renovating is driving a price rise in the established residential market, saying the majority of buyers are Perth locals looking to upgrade. 


If you can buy something that's ready to go and you're happy to pay a premium to do that, you're going to do that. So that has really been driving the luxury part of the market in Perth. 


Coming into the year, the strongest buying pool was actually interstate and overseas. Now that the borders have opened up and people are getting back to their normal lives, we've actually seen a big drop in the number of interstate and overseas buyers in Perth. 


Two of Kerr's most recent listings, a stunning 1940s home in Cottesloe and a charming character home in Nedlands, both sit in Perth property hotspots. 


Both of them have been absolutely inundated with interest because they are in kind of the sweet spot of the bell curve of pricing in the areas. 


The first home in Cottesloe is a stunning 1940s period residence displaying beautiful Art Deco features, soaring ceilings and polished boards. The 774 square metres of premium land offers incredible potential for a thriving family, sitting just metres from the beach and surrounded by the best amenities of this renowned suburb. 


Michelle Kerr says the home is a rare opportunity to secure land in a highly sought-after location. 


What we're selling here is the potential to create a family home. It's on a really big block that's highly sought after in a highly sought after pocket. 


The person who's going to buy this is someone who wants to secure that very liveable piece of land with the view that maybe in three to five years time, they will add on and create a more substantial home. 


Kerr's Nedlands listing is a beautiful character home filled with incredible 1930s period features such as coffered ceilings and gleaming floorboards mingling with modern finishes. 


Sitting in the exclusive dress circle address of Nedlands, the home is a short walk to the river, acres of open space and the Nedlands Golf Course, with Kerr saying it's perfect for a family who wants to add their own flair to a charming setting. 


It's a beautiful 1930s character home right on the crest of the hill. A little pocket of land between Princess Road and Mel Vista. 


This one's going to really appeal to character buffs who want to get in there and just add their finishing touches. 


There is a new Aussie real estate platform, there are no registration or listing fees, no monthly or annual costs and no marketing charges saving sellers, developers, investors and agents thousands on each listing. 


Buyers and renters benefit from the competitive savings owners, developers, investors and agents can pass on to BUYERS for a win, win, win deal. 


Importantly buyers, investors and renters can be confident that every property listed with SSB has accurate details and the sale prices and rent cost are displayed upfront. 


And Buyers and Renters make  "Direct Contact" with the decision maker for viewings, negotiations and getting the deal done saving more time and money. 


See Property News at
SSB
. 
SSB is Not an agent, reseller or lead generator, we are an Australian owned FREE service providing an additional online real estate channel that adds significant market reach, exposure and capture for sellers, buyers, renters agents and developers. 


---