Alternate reality: what actually is a 'metaverse' home? By Charlie Calver
A few years ago, the idea of virtual architecture would likely conjure up crude visions of half-thought-out conceptual renders by architects and engineers to give clients 'an idea' of what they are building. But, in 2022, these virtual worlds aren't just the means; they're the ends too.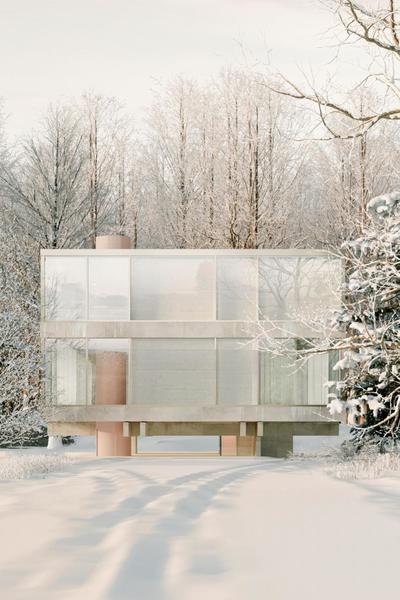 Metaverse, virtual reality, augmented reality, non-fungible token—these are the sci-fi-esque jargon that you have likely come across in the past 12 months, and whether you're eagerly diving into this new world of design or are proceeding with caution, it is certainly here to stay. 


A host of architects are taking their practice into the virtual world. Madrid-based architect Alba de la Fuente recently collaborated with artist Andrés Reisinger to create Winter House, a virtual Modernist home filled with furniture that would make Dieter Rams proud. The architecture firm predicts that most of their designs will exist online in the future—a smart move considering the virtual reality industry was valued at US$15.81 billion in 2020 with expectations that it could reach US$69 billion in the next six years. 


Winter House is a 'home' that none of us can physically set foot in, but it is undeniably a design feat that should be recognised. But, as what? Is it architecture? Is it graphic design? 


To decipher our thoughts, we reached out to Studio Messa art director and 3D artist Jessica Ticchio. Through her work with Studio Messa, a Sydney-based creative production studio that has worked with brands ranging from Bottega Veneta to Nike, Ticchio has displayed superb design execution in the real world. But it's in her passion, moonlighting as a digital artist selling NFTs, that she has really pushed the boundaries of what we consider 'architecture'. 


Here, Vogue Living talks to Ticchio about the brave new world that is digital architecture. 


VOGUE LIVING: How would you explain the concept of metaverse architecture? 


JESSICA TICCHIO: Metaverse architecture can be described as creating virtual spaces to experience within the digital world. 


If you can't actually step foot in these places, what is the appeal? 


As a creator, it's being able to design without limitations—budget, height restrictions, panel sizes, availability of materials… even gravity! Having no constraints allows new ways of thinking to bloom. 


As a viewer, digital architecture has the ability to make you feel transported, transformed, even transcendent. In my virtual world, I focus on creating dream-like spaces that radiate peace and calm; living in a time where physical isolation is a common reality, visions of an idyllic world can feel especially meditative, easing stress and evoking positivity through the body and mind. 


Is the closest equivalent a coffee table book experience? 


In the sense of being something beautiful or interesting to showcase, enjoy, explore and be inspired by—sure, kind of! But now imagine being inside the coffee table book—as tech continues to progress, metaverse architecture is providing new levels of interaction and immersion beyond what a coffee table book could ever imagine. 


What are the best ways for people to experience digital architecture? 


To really get lost in digital architecture, I would use a [Virtual Reality] headset… although I've also found staring intently at a screen or projection with all the lights off in your room also works too. 


As a digital artist yourself, can you give us some insight into how labour intensive it is to create a piece? 


For me, it's a rather technical process with often weeks to months passing between concept and completion. Every artist works differently, but I'll start with a pencil sketch, then build the composition in 3D and add lighting & materials. When the scene is finished, there's rendering—and frame sequencing if you're creating an animation—followed by all the post-production editing like colour grading and sound design. 


Is the ability to create almost anything in the digital world liberating or terrifying to you? 


Definitely an equal balance of totally liberating and absolutely overwhelming— I find it incredibly freeing to have this digital space to create in, but there really are a million different directions you can move in. To keep my own vision clear, I'll generally focus on the notion of 'reimagining the world through a contemporary art lens'. 


Being the Art Director of Studio Messa, I also spend most days creating spaces to experience in the real world, so when I jump into 3D I've usually got a strong backlog of impossible ideas to take inspiration from. 


What kind of feedback have you received from the design industry about this evolution? Is it being embraced or is there resistance? 


For the most part, I feel it's being embraced—never before has the spotlight been so much on digital art and architecture (which I'm obviously living for!). In saying that, I still feel resistance can come from a fear of not wanting to sacrifice a real-world connection for this strange, new virtual existence… and for the record, I wouldn't want to sub one for the other either! 


Instead, I find true value in the space between both worlds; looking at the best parts of the physical and digital world and exploring how the two can exist in harmony. To bridge this gap, I tend to ground my designs somewhat in reality, creating a sense of connection through familiarity. I'm also exploring the most accessible ways to experience digital artwork in the real world—currently offering tangible prints for the home, but also working on a series with Infinite Objects—the renowned creators of beautifully sleek and futuristic digital photo frames. 


How much does 'investing' and trying to make financial gains on NFTs drive this market vs the actual design? 


I try very hard to not get clouded by the financial side of NFTs, and instead focus on creating my art from a point of passion, enjoyment and authenticity—with the hope, of course, that the right people (and collectors) will find me. 


If you're creating NFTs just trying to emulate what you think will sell, there's a chance you might not be working in the most original, innovative, or genuine manner. In an already saturated market, I feel the best approach is simply creating what feels right and natural to you. 


What is the future of metaverse architecture and design to you? 


In the future, I imagine certain design elements currently unique to digital spaces will be somewhat integrated in a real-world context; how thinking outside of the box in the metaverse will directly inspire the reimagination of homes and buildings in our everyday, physical world. With the metaverse as a platform to test new ideas and experiment beyond the limitations of our current reality, I feel like we're truly paving the way for a whole new era of architecture. 
 
More Property News and insights at
SSB
---