Smashing it: Avocado farms gobbled up despite price slump By Larry Schlesinger
Fund manager Gunn Agri Partners is among the investors betting on a rebound in avocado prices in the coming years, after snapping up more than $15 million worth of orchards in NSW and Queensland.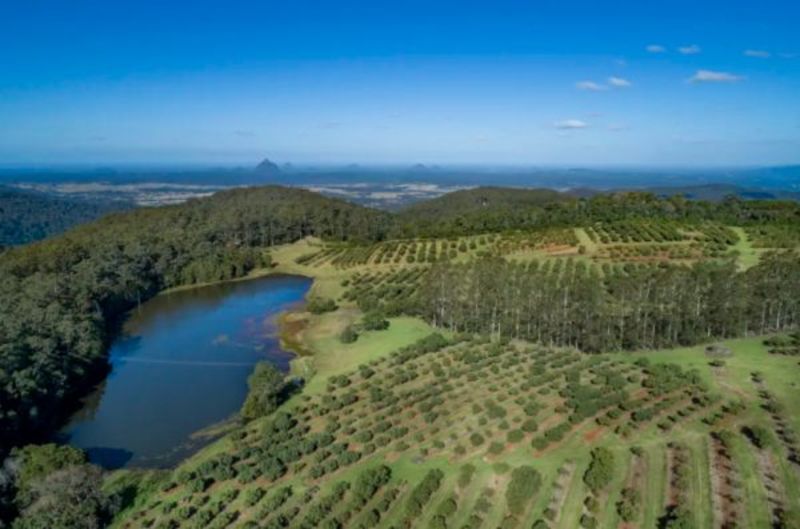 Long regarded as a luxury breakfast item splurged on by millennials, smashed avocado on toast became affordable to all this year after retail prices crashed to just $1 each after a glut of the fruit was harvested. 


The slump did not put off agricultural asset manager Gunn Agri, which bought the Mountain Top Avocado Orchard just west of Nimbin in northern NSW for $11 million from growers Barry and Vickie Kuhnell. 


The 117-hectare property at 578 Mountain Top Road has more than 14,000 Hass avocado trees planted by the Kuhnells since they bought the property a decade ago. 


Two-thirds of the orchards are more than four years old – avocado trees take four to five years to start bearing fruit. 


Records show Gunn Agri paid $10.94 million for the Mountain Top orchard, with the deal settled two weeks ago. Geoff Venn of LJ Hooker Lismore brokered the sale, which included the 2021 crop. 


Gunn Agri managing director Bradley Wheaton said the property had been acquired for a managed account known as Wollemi Farms. 


"It's been purchased on behalf of a European institution with a mandate to invest in permanent crops assets in Australia, often leasing to local operators," Mr Wheaton told The Australian Financial Review. 


"The transaction was completed on a walk-in, walk-out basis." 


Hass avocados, which in the past have retailed for as much as $4 each, were selling at just $1 in supermarkets earlier this year after a bumper harvest in Queensland – the country's main avocado growing region. 


In Western Australia, 8.2 million trays will be picked this summer, a 233 per cent increase on last year. 


"Conditions have been really good all around the country, so all of the regions have got really good crops … and volumes are just going to continue to rise right across the year," Avocados Australia CEO John Tyas told the ABC in June. 


Despite falling commodity prices for avocados and macadamia, Mildura based Herron Todd White valuer Paul O'Keeffe said market conditions on the NSW North Coast remained buoyant. 


Mr O'Keeffe said farming land values were firming, "fuelled in part by purchasers from capital city markets". 


Also taking a punt on avocado prices recovering are Central Queensland cattle farmers Dan and Bec Radel. On Friday, they paid $4.17 million at an online auction for the Kirkaldy avocado orchard near Maleny, on Queensland's Sunshine Coast. 


The 60 hectare property with 4356 Hass trees was marketed by Ray White's Jez McNamara and Jason Mattiazzi. 


The property included a five-bedroom brick homestead set in established gardens. 


It was offered for sale by Jennifer Donova, who has owned the orchards for 35 years. 


The Radels own and operate Queensland outback cattle station Burenda at Augathella. 


A new way to Buy, Sell, Lease and Swap rural and regional property 


A recently launched Australian real estate promotion service saves rural and regional property buyers, sellers, owners, developers, investors and agents tens of thousands of dollars providing a secure self-managed online platform free of fee's, costs and charges to present rural property profiles for land, farm, life style, commercial and regional business properties for Sale, Lease, Swap and Buy globally, at zero cost. 


SSB is a 100% free Australian owned and operated service that has no registration or membership fees, no marketing costs, no listing fee's and zero charges including for agents to multi-XML listing it also connects sellers, buyers, lease holders and rural investors direct. 


Importantly listing with SSB you have full control of your and can edit the content, pics, videos, price and availability 24x7. Best of all inquiries from pre-qualified searchers go direct from the searcher to the your nominated email Inbox. 


Buyers, investors and renters can be confident that properties listed with SSB have accurate details with the is price displayed upfront making sellers super competitive that gets you connected direct with the decision maker for viewings, negotiations and getting the deal done. 
SSB is not an agent, reseller or lead generator, we are an Australian owned and based FREE service providing an online multi-channel that enhances sales and marketing campaigns adding significant reach, exposure and capture adding value to income streams by connecting owners, agents, investors and buyers. Have a look at
https://sellitswapitbuyit.com
  (SSB). 
---