Melbourne company 3D printing entire homes to solve housing crisis
By Savannah Meacham & SSB
A Melbourne company has come up with an innovative idea to solve Australia's housing crisis by constructing entire homes through 3D printing.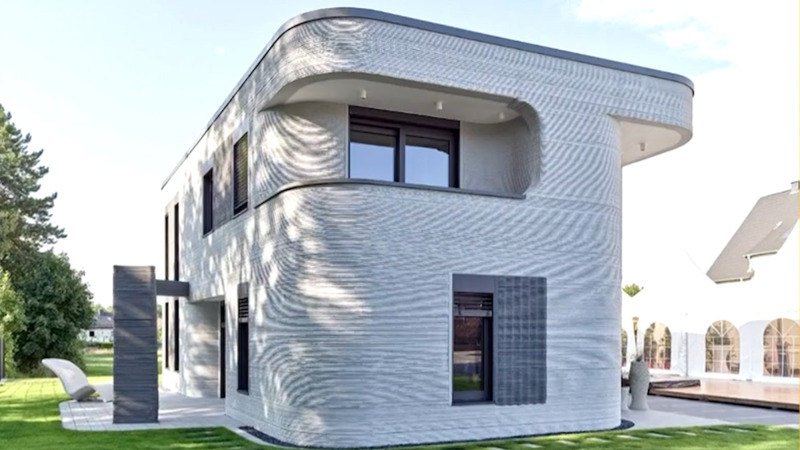 Fortex Technical Director Jake Hartman said the process is like a 3D desktop printer but on a much larger scale and can construct a home in a more efficient time period. 


"We are able to produce concrete on site, pump it on site and deliver the wall system to a house on site," he said. It is a concrete-based printer but can use locally based resources to build the homes. 


CEO David Lederer said the system is best suited to a flat surface to build on but can construct up to 12-metre homes. 


"It is a modular-based system from small homes to 12 metres wide and three storeys and 50 metres deep before you have to move the printer, so basically infinite in-depth," Lederer said. 


Hartman added it gives more "design freedom" to architects due to the ease of building different shaped homes like curved walls. 


"The design freedom it will give architects and designers will bring about a whole new way and lifestyle as a result of the different shapes and forms we will be able to see in residential construction," Hartman said. 


Fortex spruiked they could build a 210 square metre single-storey home in just 40 hours with two days of setting up the printer prior to construction. 


"That compared to a conventional building eight to 14 weeks for the wall system, that is excluding the delays that all builders are having in terms of supply, now it could blow out to 20 weeks for the wall system," Lederer said. 


The company said the technology would not put tradies out of business as workers are still required to operate the printing system and can be deployed just about anywhere in Australia. 


It comes as the construction industry is under extensive pressure due to material and worker shortages and high demand after COVID-19 lockdowns shut down the sector. 


A new way to Buy, Sell, Lease and Swap real estate 


A recently launched Australian real estate service saves tens of thousands of dollars providing a secure self-managed online platform free of all fee's costs, and charges to present property profiles for residential, house and land packages, industrial, commercial and business properties for Sale, Lease, Swap and Buy. 


SSB is a 100% free Australian owned and operated real estate service that has no registration fees, no marketing costs and zero listing charges including for multi-property XML listings connecting buyers, owner sellers, developers, builders, agents, landlords and investors. 


Buyers can benefit when owners and agents pass on their cost savings to buyers and save thousands of dollars. 


Importantly all listings with SSB have full control of their property profile listings and can edit the content, pics, videos, price and availability 24x7. 


Best of all inquiries from pre-qualified searchers go direct from the searcher to the listers (owner or agent) nominated email Inbox. This unique service also provides the opportunity to significantly increase market exposure, reach and capture. 


Note.. the many real estate agents using SSB that are seeking to minimise their own costs and at the same time significantly increase their market reach and capture may choose to pass on the substantial marketing savings made but likely will charge an agreed, with the owner seller, commission for their expertise and services. 


SSB is NOT an agent or reseller we are an Australian owned and based FREE property service connecting directly with owners, investors, developers, agents and buyers. 


---