Why Aussie families are spending millions on rundown homes By Sarah Sharples
By Sarah Sharples
From the outside, this home looks delightful - but inside was a completely different story, as it's "lucky" new owners found out.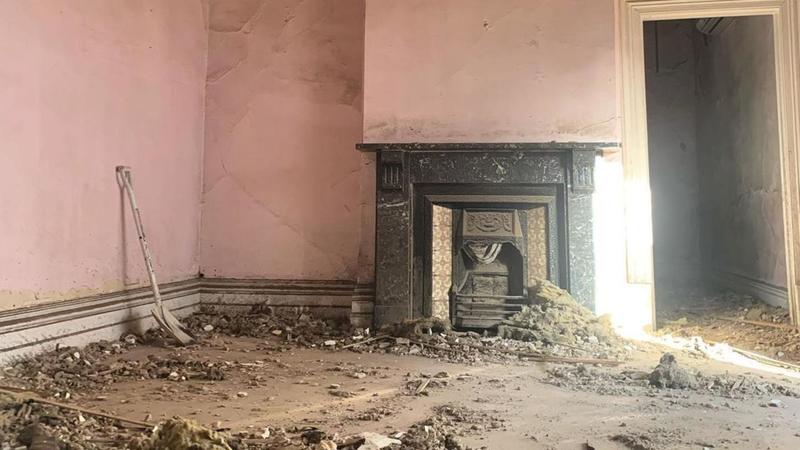 A young Aussie family splashed out $1.6 million on a "very rundown" house as it was the only way for them to get into the neighbourhood – an increasingly common trend where families are outbidding developers to try to crack the housing market. 


Mum Annabel Bower, 41, said the family of six are currently living in their building site home but forking out over a million dollars for a house that needed extensive renovations was the only way for them to get into the trendy area of Unley in Adelaide. 


They beat out six other bidders at auction – as what they thought would be an "absolute bargain" soared in price. Some registered bidders didn't even raise their paddles. 


"It was very rundown which I think scared a lot of people off," she told news.com.au about the purchase. 


"We will probably have to spend $700,000 to $1 million to get it where we want it but this is still significantly less than buying a property that's already done." 


A house the same size had sold for $2.8 million around the corner and a villa with the level of renovations they are planning recently went for $3.5 million, she said, meaning their purchase was practically a bargain for the suburb. 


There's also a place in the neighbourhood up for sale that's on a smaller block that has an extension like their planned one and it has a guide of $4.5 million, Ms Bower said. 


"It's an area where fully renovated homes rarely sell for below $2.5 million and because my husband is in the building industry, he can't stand the idea of paying for someone else's work," she said. 


"He really wanted to find something that didn't even have a 1980s extension tacked on the back as he would have to go through a demolition. He wanted to find a completely untouched house that we could add on to." 


Developers being pushed out by families 


The Bowers are one of a growing number of families across Australia being forced to fork out millions for a renovator's delight – an area of property that is usually the playground of investors. 


Experts said skyrocketing house prices as well as rising construction costs means flipping houses for investors is less lucrative. 


Now, developers and investors are often being outbid by families desperate to score a home, even if it means spending hundreds of thousands on renovations, as they worry about being completely priced out of an area. 


Ms Bower and her builder husband Josh, who have four children aged 12, 10, five and two, said they knew their Unley home was worth the money as it was an "area you can never lose in". 


"We absolutely love the area because it's so close to the city and my husband's office, it's close to the beach, close to town and King William Rd which is such a fabulous shopping and eating street," she said. 


"We love going out to dinner and to be somewhere that has all of that literally within walking distance was a huge bonus for us and with four kids it's hard to get out the door sometimes, so the idea of being able to walk out the door to grab a pizza is amazing." 


'Every single surface needs to be redone' 


Ms Bower said that the 1880s bluestone villa is on a huge block and is just 4km from Adelaide CBD but was in a dire condition. 


"It probably hadn't been updated since the 1980s. There were a lot of cracks, lino covering the original floorboards, the garden was completely overgrown and the trees were so tangled you couldn't walk to the back of the property," she said. 


"The bathrooms were in … the back of the property and they were usable but certainly not glamorous at all. Every single surface in the house needed to be redone." 


Ms Bower said she basically didn't see her husband for the first six weeks after they purchased the home in July last year. 


"He spent every weekend there sanding, painting, taking out the old kitchen and refitting it and there are five beautiful fireplaces, so restoring them and we have restored the front veranda ourselves," she said. 


"I've done a lot of painting but I can't do anything on scaffolding as I'm scared of heights." 


Every single wall has been stripped back to the original stone meaning plaster has been carted out for months, while they also removed 13 tonnes of dirt. 


Renovations have included restoring the original frontage and one side of the villa has been turned into a master bedroom with a walk-in robe, while a third bedroom was cut in half for an ensuite and another bathroom. 


"The way we have done it is we are able to live in the front and fence it off and do the back part of the house for renovations," she said. 


"That's why before we moved in we completely restored the front and put in two new bathrooms as it's part of the finished project, but it also makes it easy to live in until the next part is done." 


The second stage includes a two-storey renovation that doesn't fit under the same roof structure as the original house but will include a kitchen, living room, dining room, butler's pantry, mudroom, laundry, pool and outdoor entertainment area. 


In the rear lane, they are hoping to build a four-car garage and put an apartment above it too. 


'Chaos' for the coming years 


Ms Bower said they have set themselves up for around three years of "chaos", which makes for interesting times with four children – particularly with a very curious toddler. 


"The kids are pretty good but I have to remind the tradies to pack up their tools and pack the ladders down as we have found our two-year-old up a ladder before," she said. 


"It's definitely not for the faint-hearted … My husband – his mother started their building company in the 1970s and was the first woman to be licensed in South Australia, so this is normal to my husband. He grew up on building sites so he doesn't see the chaos. 


"But I didn't and I'm constantly cleaning and filling up the skip, while he is used to the mess so it doesn't actually bother him." 


Curve balls for the renovations have already been thrown in too. 


They thought the front of the house would need a "lick of paint" and the floorboards polished, but the house was found to be not as structurally sound as they hoped so a lot more money was needed to shore up the walls. 


"One thing we are thrilled with is the roof is fine but we have had to re-gutter the entire property," she said. 


Despite the chaos, Ms Bower hopes it will be the family's forever home, with dreams of having drinks for the kids' formals there, although she is aware her husband can get restless without a project. 


"I try to think of the end goal and how awesome the house will be and I'm looking forward to that final project completion where I can relax and sit by the pool and drink pina coladas, rather than shovelling dirt and painting," she said. 


$1.78m for an unsafe house 


Over in Sydney, which saw some of the steepest house rises across the country during the pandemic with a rise of 26.7 per cent last year, buyer's agent Michelle May said it was becoming more common for families to look for a fixer-upper to get into the market. 


She encourages clients not to just look at "pretty pictures" but to consider if a house has good bones and is in a great location. 


"It's tricky. Some properties will go for substantially cheaper as people don't see the opportunity there. But then there is the other side of things where people can see it if it's nanna chic, where it's in mint condition but there's a 1950s kitchen, then what happens is you get a lot of people bidding on that," she said. 


"Then it goes for more than it should have, so it's a mixed bag and being able to sniff out the opportunities is very important." 


Recently, she had a family of four buy a place in Sydney's inner west that needed to be "completely gutted" but the parents wanted to get their primary-aged daughters into Newtown High School of Performing Arts. 


On the outer border of the inner west, a three-bedroom house in Strathfield South that was deemed too unsafe for internal inspections saw a young family outbid builders, snapping up the 446sq m block for $1.78 million, a big jump from the price guide of $1.4-$1.5 million. 


Another couple recently beat out developers looking to turn a six-bedroom house in East Ryde into duplexes by paying $2.65 million after the homebuyers had been priced out of the Hunters Hill area. 


Even in Sydney's west, in Parramatta, young house hunters are splashing the cash to get their hands on a decent sized block, with a couple paying $1.72 million for a 702sq m block, defeating 27 other registered bidders. 


Roger Wardy of Ray White Touma Group, said just last week he sold a an original three-bedroom bungalow in inner city Kensington for $4.35 million to a family, who would also have their mother living with them. 


He said they beat out developers for the property and plan to add an extension. 


"They were happy to pay a bit extra, as they are not day trading but they are looking at the growth in prices in the next 10, 20, 30-year term," he said. 


Neighbouring suburb Rosebery is also attracting young families who have been priced out of Kensington, he said. 


Suburbs that could offer a good deal 


Meanwhile, Ms May thinks suburbs south of the Cooks River in Sydney offer a good opportunity for young families, including Arncliffe, Bexley and Banksia. 


"These suburbs have cute character properties that offer relatively good value for money and good transport links and if people turn their attention a little bit further afield they can find some good opportunities there," she said. 


For those picking up a renovator's delight, she recommends people find out upfront what work actually needs to be done and budgeting for that down the track. 


"Because you can pick up a kitchen from Bunnings and Ikea, for not all that much money, and get a local builder or handyman to replace like for like or it could also be the case that it needs a new roof which is much more costly, so understanding the context of when does what need to be done and how much is that going to cost is crucial," she said. 


The 'bridesmaid' suburbs 


Melbourne buyer's agent Wendy Chamberlain said her suggestion to clients is to always try to buy something with a bit of land or to look at homes in a neighbouring suburb from a desirable location. 


Examples of this in Melbourne include Pascoe Vale or Fawkner versus buying in Brunswick or Coburg, Thomastown and Lalor as opposed to purchasing in Reservoir or Preston and Albion compared to forking out money for Sunshine homes, she said. 


The size or amenities of the home may need to be reconsidered too for young families, she said. 


"That four-bedroom, two-bath home with the double garage, may end up looking like a three-bedroom, one-bathroom with a carport," she said. 


"But at least you have entered the market. With interest rates on savings accounts being so low, buyers can find it hard to save enough, quickly enough, to buy their perfect home. 


"Some buyers are better off being in the market, albeit not in their 'forever home', and then leveraging into another home, as home prices rise over time." 


Double their money 


For the Bower family, it was not the first home the family have renovated. 


Prior to the move, they lived in Wattle Park in the foothills of Adelaide, and completely renovated an old two-storey yellow brick house from the 1970s. 


They turned it into modern white marble-rendered home, Ms Bower said, renovating in stages over five years. 


The house, which they bought for $700,000, went on to sell for $1.5 million at auction. The family bid on the Unley house the very next week. 


"Our last house, which was stunning, was on a busy road and it had a bus stop and school and that really deterred buyers, which is why halfway through the auction I said I was never buying on a main road again," she said. 


"And the modern look doesn't appeal to everyone but heritage and modern extension appeal to more, which is why we bought the Unley home." 


Ms Bower believes more people are going down the renovation route since the pandemic sent property prices "nuts". 


"To create a large family home, a lot of people are having to sacrifice a bright shiny perfect house and to get something rundown," she said. 


"But they are happy to sit tight for few years and it's as good strategy as you can work out the block and what it needs." 


Buyers Benefit 


There is a new Aussie real estate platform, there are no registration or listing fees, no monthly or annual costs and no marketing charges, saving sellers and agents tens of thousands on each listing. 


Buyers and renters benefit from the competitive savings owners, developers, investors and agents can pass on to them in a win, win, win deal. 


Importantly buyers, investors and renters can be confident that every property listed with SSB has accurate details and the sale prices are displayed upfront making sellers super competitive. 


And there is Direct Contact with the decision maker for viewings, negotiations and getting the deal done saving time and money. 


See Property News at
SSB
. 
SSB is not an agent, reseller or lead generator, we are an Australian owned Melbourne based FREE service providing an additional online real estate channel that adds significant market reach, exposure and capture to your current marketing campaigns. 


---