The grape escape: why more home buyers are making a vine change
By Melissa Heagney & SSB
Nick Clark and husband Brett Hadlow love a good glass of wine and entertaining so much that they toyed with the idea of opening a wine bar near where they used to live in Sydney's inner west.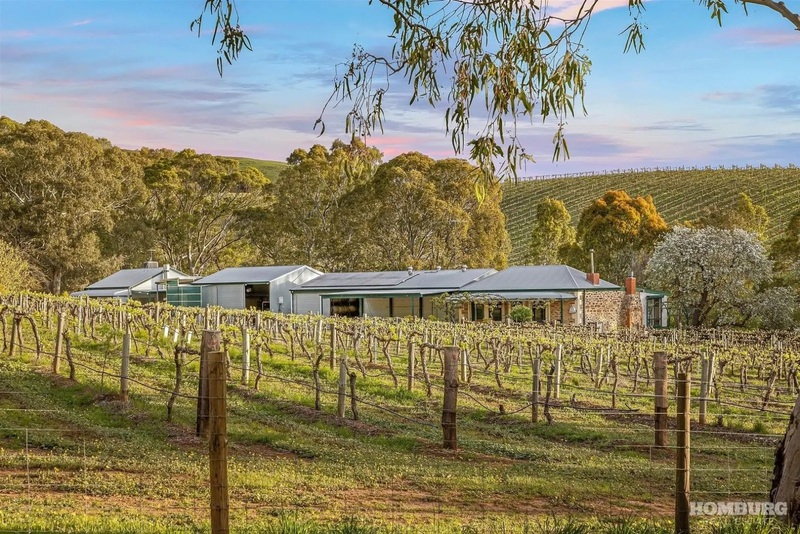 But after some research, they decided on growing and making their own wine instead. Late last year, they bought a home and 15.7 hectares in Glen Aplin in Queensland's fertile granite belt which was once a tomato farm. 


"For what we wanted, we found it would be easier to build a winery ourselves rather than start a wine bar," Clark said. "The overall budget for this is more than the wine bar, but I feel the risk is less. 


"We have the luxury of doing it in our own time, and we're not burning our own money by paying rent for a bar." 


Now in the early stages of setting up Witby Estate — short for wine in the backyard — Clark and Hadlow are among a growing number of home buyers making a vine change. 


This grape escape started in earnest during COVID-19 lockdowns when those seeking a lifestyle change rushed to coastal and tree-change areas. But even now, with the property market slowing, buyers are still keen to get a property with a vineyard. 


Experts say there has been a marked change in winery buyers, particularly for properties priced between $1 million and $5 million, as people search not only for a home but a side-hustle. 


Managing director of HTL Property, Andrew Jolliffe — who sells in the Hunter Valley, about two hours from Sydney — said wineries had become attractive to a wider range of buyers. 


"Younger people are looking at these types of ventures more," Jolliffe said. "As we know from the past couple of years, there's no great currency and no guarantee about what the future holds. People that did think 'I'll do it at a later stage' are bringing their decisions forward." 


Jolliffe has listed Tulloch Wines, which is being sold through an "expressions of interest" campaign. The winery and cellar door, cafe and land in Pokolbin is estimated to be worth around $21 million. 


The 127-year-old Hunter Valley winery has had interest from buyers looking for a lifestyle change as well as corporate buyers looking for land with vineyards in one of the country's best-known wine regions. 


Buyers of all kinds were attracted to areas with an excellent reputation for wine, Jolliffe said. 


"There's only one Hunter Valley, one Yarra Valley and one Margaret River, and these types of properties are becoming more scarce." 


On the Mornington Peninsula, vine changers are also becoming more common. Eldridge Estate, which sold in April for an undisclosed amount but had an asking price between $7 million and $7.7 million, was bought by a lifestyle buyer. 


Kay & Burton Flinders partner Tom Barr Smith said the high land value and the option of a side-hustle were making such buys popular. 


"It is more obvious these days that there are more lifestyle buyers for these properties," he said. 


It's a similar story in Western Australia, although some families are selling up as children opt not to take on their parents' businesses. 


"There's greater interest in vineyard properties now from the lifestyle buyers than there was in previous years," said Langley and Co Advisors Mike Calneggia, who sells wineries in Margaret River. 


"There are quite a few transactions going through in general, but some people are buying the wineries but not the wine business — they have someone else look after the vineyard and make the wine and sell it." 


Some are looking to sell the grapes and, depending on the type of fruit, it can be worth a lot of money. Some white varieties are rarer given the appetite for white wine during the past two years. 


In South Australia's Barossa Valley, properties that offered the area's famous shiraz grapes were particularly popular, Homburg Real Estate selling agent Rohan Semmler said. 


Tweedies Gully Winery in Williamstown, up for sale with expectations of $4 million, has shiraz grapes and is also a property many lifestyle buyers are interested in. 


"The inquiries that we're getting, they're people who want to move into the area for lifestyle but also to run their own business and gain another revenue stream," Semmler said. 


Those hoping to be successful in a market like the Barossa Valley need to buy in a good position, with the right type of fruit, but also do the hard work, he said. 


"People should be prepared to get in and get their hands dirty, the moment you start contracting out work it costs more money," he said. "I think the ones that do well do the work and know how to market themselves." 


In Queensland, Clark and Hadlow are more than willing to get their hands dirty and are hoping to have their winery up and running over the next two years. 


They have plans to plant white wine varieties of Albarino and Fiano and the red wine variety of Malbec, as well as add some accommodation for couples to enjoy romantic weekend escapes outside Brisbane. 


"We'll make it go well, we have a great support network," Clark said. 


There is one place regional and rural property sellers and buyers could save thousands of dollars. 


Saving thousands at
SSB
is the norm as there are no registration annual or monthly costs, no listing charges and no marketing fees for listings by regional and rural property owners, real estate agents and investors presenting vine, sea or tree change real estate, farms, horticultural and lifestyle properties for Sale, Lease, Swap. 
Buyers and investors benefit from keen competitive sellers when property and business owners and agents pass on their significant cost savings. 


SSB is NOT an agent or reseller we are an Australian owned and based free global listing service connecting owners, investors, developers and real estate agents with searchers seeking their next vine, tree or sea change happy home with the decision makers. Have a look it's Free.
https://sellitswapitbuyit.com
(SSB). 
---