Climate change impacts not being made clear to homeowners in Australia By Charis Chang
Many Australians would not think to research climate impacts when considering dropping millions on their dream property – but this could be a very costly mistake.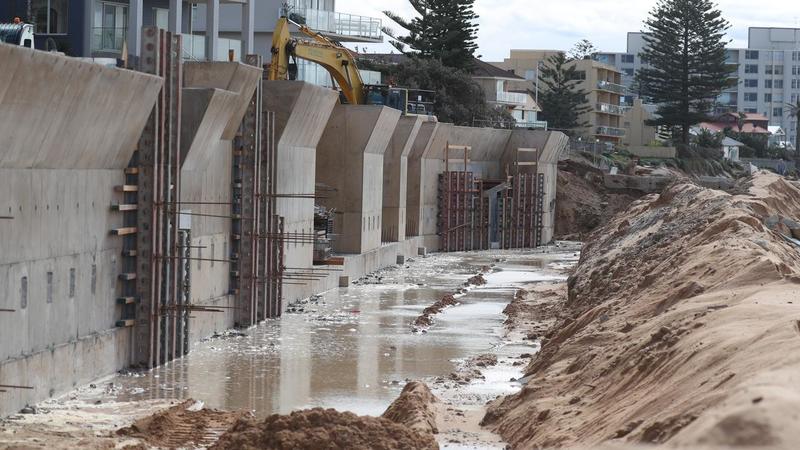 Many Australians would not think to research climate impacts when considering dropping millions on their dream property – but this could be a very costly mistake. 


Long considered a problem to be dealt with in the future, the impacts of climate change are happening now – something the latest Intergovernmental Panel on Climate Change (IPCC) report makes clear – and homeowners buying their properties today could be forced to deal with these issues by the time they've paid off their mortgages. 


It's not just those living in million-dollar homes by the water who could be at risk, with climate change also expected to worsen flooding around urban creeks and from stormwater drains. 


Disturbingly many of these impacts are not being made clear to potential homebuyers, who are forced to scour planning documents and climate modelling websites to understand how they may be impacted by things such as flooding, coastal inundation, fire and cyclones. 


This is partly because local councils are being left to assess these climate impacts individually, sometimes with minimal guidance from state and territory governments. 


If something does go wrong and affects private assets, this is largely being paid for by individual landowners, reinforcing the old adage "buyer beware". 


Part of the problem is that different states have different approaches and jurisdictions like NSW have still not provided councils with proper advice on how to handle the impacts, leaving developments exposed. 


A NSW Auditor-General's report published in September, which looked at how the State Government was managing climate risks to assets and services, found limited guidance was being provided to help agencies identify and manage risks. 


A statewide climate change adaptation action plan, which was meant to be completed in 2017, has still not been delivered. NSW is the only state or territory not to have a plan in place. 


The report also points to "weaknesses in the planning system" because the Department of Planning, Industry and the Environment has not taken adequate steps to ensure climate change is adequately considered by agencies. 


Regional planning documents reference climate change but do not consistently translate this into advice for councils. 


Guidance on preparing Local Environmental Plans (LEPs) for councils also do not mention climate change and the Standard Instrument for preparing LEPs only briefly mentions it in relation to flood planning. 


"This means that councils' Development Control Plans are at risk of not considering climate change," the report states. 


A spokesman for the Department of Planning, Industry and Environment spokesperson said the NSW Government "is determined to take decisive and responsible action to reduce emissions to net zero and manage the physical and financial impacts of climate change." 


"The NSW Government welcomes the Audit Office Report and will closely consider its recommendations to bolster the State's response to climate change," he said. 


'People need to start paying attention'


The situation provides little reassurance for homeowners who are relying on these types of assessments to inform them about potential future climate impacts. 


The huge cost of these impacts has been recognised by NSW Treasury, which estimated the fiscal and economic costs associated with natural disasters due to climate change would more than triple per year by 2061 – that's just 40 years away. 


It comes as analysis from the Reserve Bank of Australia found house prices were expected to fall by 10 per cent or more in some areas by 2050 because of climate change. 


The situation facing homeowners in places like Collaroy, Sydney, who are being asked to pay up to $400,000 for a $25 million sea wall to protect their properties from storm surges, illustrates some of the challenges ahead. 


Climate change adaptation expert David Rissik of BMT, told news.com.au there was a need for people to be climate literate when considering whether to buy certain properties. 


"You can't expect local governments to protect everyone," he said. 


"There's a need for people to make their own decisions and determine their own risk but you need data. In some places it's easy to access and in others it's as clear as mud." 


As risks increase, Mr Rissik said homeowners may battle to get the insurance they require, or finance from banks. 


"Insurance and finance sectors are well aware of the risks they face, and they won't insure or fund high-risk places that might not be there in the future." 


The Coastal Risk Australia website predicts homes and streets in Victoria, Queensland, Western Australia, South Australia and Tasmania could be increasingly flooded, and parts of tourist hotspots like Byron Bay could see their beaches washed away. 


Mr Rissik said those buying properties potentially impacted by flooding or other risks, needed to understand that this could come at a huge future cost. 


"It's important for people to start to learn more and to start paying attention to these sort of details," he said. 


"If we don't think about these things and make risk-based decisions, we could get ourselves in difficulty in the future." 


Mr Rissik said everyone had a different risk appetite. 


"Some will say that they don't think these things will impact them for 50 to 60 years, and they might get access to the right mapping or projections, and be prepared to wear that risk. 


"Others are more risk adverse and would say they'd rather not be affected. 


"It's really important that people start to work through those processes." 


Ways climate change could impact homeowners 


Mr Rissik was involved in the development of the CoastAdapt website developed by Griffith University's National Climate Change Adaptation Research Facility, which provides maps showing potential climate impacts around Australia. 


He said rising sea levels would make flooding more frequent. 


"At the moment in some places, roads are inundated during the king tide once or twice a year," he said. 


"Into the future this will be more regular and over time it could happen every time there is a high tide. In some cases it will be almost permanent." 


Erosion will have impacts on homes, businesses and roads close to the shoreline. 


Storm surges associated with cyclones or east coast lows could see waves overtop existing protections or dunes. 


Sea level rise could also see water come up through storm water drains, in urban creeks or along the beachfront. 


This would reduce the effectiveness of present day drainage systems. 


Even now, there are some roads in Cairns and Brisbane that can't be used for short periods of time during high tides. 


"Because it only happens sometimes, people are happy to find a different route but in the future it will happen more regularly and will have a compounding effect," Mr Rissik said. 


"This is a portent really on what the future might look like on a more regular basis." 


He said some short-term actions to address impacts such as sea level rise could be done for a reasonable price, but more long-term solutions that involved changes to infrastructure, such as building sea walls or buying areas of land to stop encroachment, would be very expensive. 


Buildings may also have to be relocated or roads moved once they start to become inundated or at risk of erosion. 


"I can't see how local government alone would be able to afford those," he said. 


How can you find out the risks?


Planning certificates already record whether you are living in an area at risk of flooding and coastal erosion, but climate change may make these issues worse and other surrounding properties that are not currently impacted may be affected in the future. 


The modelling of high tide and sea level rise may also not take into account other subtle effects like wave actions, which could create larger impacts in certain circumstances. 


The information available varies on what state you live in, particularly for sea level rise and other coastal hazards in built-up areas. 


"There is definitely not a consistent approach nationally, which can be quite confusing," Mr Rissik said. 


Queensland councils appear to be the most advanced in their planning, thanks to $12 million in state funding to support the understanding and preparation for storm tide inundation, coastal erosion, and rising sea levels caused by climate change. 


This is perhaps not surprising given many of the worst-impacted areas are in the Sunshine State. 


Mr Rissik said low-lying areas were particularly at risk including in some suburbs in Melbourne, Sydney, Brisbane and the Gold Coast. 


"You just have to look at any low-lying areas, such as the suburbs around Melbourne's Port Philip Bay or houses very close to the water in Sydney like Pittwater," he said. 


One of the worst impacted areas will likely be Cairns, which already experiences flooding of certain roads during king tides and would likely see inundation of a large proportion of the city if sea levels were to rise. 


Information about risks on Cairns' council website show large parts of the city would experience erosion and permanent flooding during high tides by 2100 if there was sea level rise of 80cm. 


Large areas would also be flooded during 1-in-100 year storm events that coincide with high tides within 40 years. 


The latest IPCC report confirms there has already been average global sea level rise of 20cm and further increases are largely locked in, with a rise of about 15cm to 30cm expected by around 2050. 


If the world continues on its current trajectory, based on climate pledges already made, sea levels could rise by 70cm by 2100, with around 3-4C of warming. 


If warming is kept to 2C, sea level rise could be as low as 50cm, or as high as 101cm if a high emissions path is followed. 


The Australasia region, which includes New Zealand is expected to experience higher than average sea level rise. 


However, there is significant uncertainty about when impacts will happen and Mr Rissik said those expected in 2050 could happen as quickly as 2040 or much later. 


What more needs to happen? 


Mr Rissik believes councils and state governments need to continue assessing future risks in all local government areas. 


"Every responsible entity should assess what climate change means for particular assets and interests," he said. 


"I'm talking about built-up areas, crown land or reserves. 


"That doesn't mean we need to do more than that right now, although some will. 


"We should understand the risks and plan to address them, and as information becomes available through reports like the IPCC, then any plans and assessments should be upgraded." 


As for homeowners, Mr Rissik recommends trying to access as much information as they can for the areas they are living or looking at buying into. 


"Whether it be for sea level or flooding, look at council and state government websites. If necessary check out the CSIRO or Bureau of Meteorology," he said. 


"They should think about how this impacts the property they are interested in, and when those impacts occur, and think about how it impacts their objectives for the property. 


"They should be informed, and not make decisions that could be very costly for them down the track." 


---