Data identifies suburbs where 100 per cent of homes could flood, and LGAs most at risk By Charis Chang
Shocking new data has identified Aussie suburbs where every home is at moderate to high risk of flooding — and there are hundreds of them.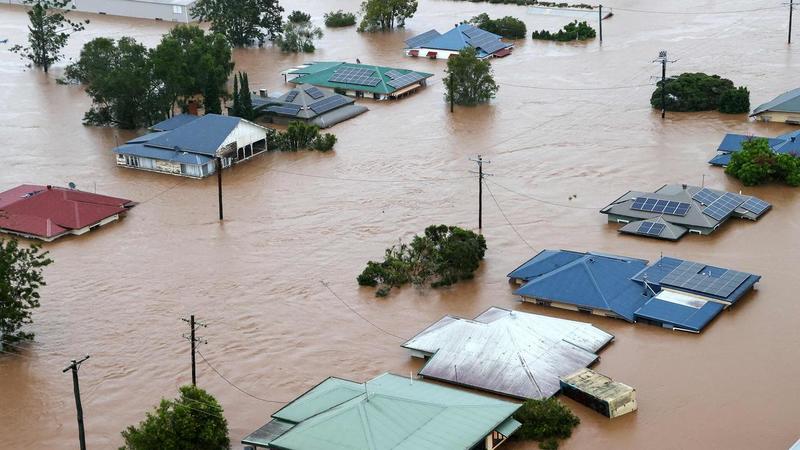 All properties in certain suburbs would be at moderate to high risk of flooding — potentially making them uninsurable — new analysis shows. 


Climate risk analysis company Climate Valuation believes worsening riverine flooding will affect property values by an average of $45,000 across Australia, as buyers factor in high insurance costs. 


Climate Valuation provided news.com.au with information about flooding risks for individual suburbs and identified 398 areas where at least half the properties were at risk of being flooded by 2025. This grows to 431 by 2050, with the flooding risk in 103 suburbs affecting more than 90 per cent of properties. 


In NSW suburbs like Ballina and West Ballina, around 99 per cent of properties would be at moderate or high risk of flooding in 2025, and this figure does not include properties at low risk. 


Almost every home and business in towns like Bourke and Nyngan would be affected. 


Even in new suburbs like Sydney's waterfront Barangaroo, 90 per cent of the 331 properties could face flooding. 


In Victoria, 92 per cent of the 16,740 properties in Shepparton could be impacted. 


Riverine flooding occurs when rain causes a river to exceed its capacity, causing flooding in nearby areas. The figures do not include properties at risk of surface flooding, also known as "flash flooding", when rain causes havoc in local areas. 


"Everyone in high flood risk suburbs needs to recognise that they may have to face similar scenarios as those we have seen this week in coastal Queensland and New South Wales," Climate Valuation chief executive officer Dr Karl Mallon said. 


"It's unfair and unacceptable to leave people in harm's way when we know the high risk addresses, and we know which can be protected and which will need to be moved. 


"Just as governments have to deal with reducing emissions, they must provide leadership and financial support for communities to prepare for the climate impacts that are here and worsening." 


'If you can't insure, people can't build houses' 


The Insurance Council of Australia has also called for more money to be spent on risk mitigation, to decrease the impact of extreme weather events. 


It has highlighted Lismore as one of nine locations in need of urgent flood mitigation infrastructure, and has called for $200 a million a year in federal funding — matched by states and territories — to be invested in projects to make communities around Australia more resilient. 


"This infrastructure and mitigation investment is vitally important to prevent future harm and devastation to these communities, as we know flood events will inevitably repeat," chief executive officer Andrew Hall said. 


Prime Minister Scott Morrison has flagged investment in flood mitigation works in the Northern Rivers and said the Commonwealth's Emergency Response Fund would be used to support those works. 


"I'm not talking tens of millions. I'm talking more than that," he told reporters this month. 


"Those costings will be settled between the Commonwealth and the state government and the local governments … because we have to get this done. 


"I've seen this in North Queensland, as well in other parts of northern Australia. If you can't insure, then people can't build houses there. 


"If you can't insure, people can't run businesses there, people can't rebuild and restock their dairy farms if they can't insure. 


"And for the insurance companies to be able to insure, then we have to be able to increase the certainty that they have about how these types of devastating floods can impact this region. 


"That's the future I want for Northern Rivers. That's the hope I want to give, and I can give you an absolute commitment on behalf of my government that we will fund those works, together with the state government and the local government, to ensure that people can have confidence about rebuilding here in the Northern Rivers." 
 
Climate Valuation identified 30 local government areas that had the highest number of exposed properties – adding up to one million properties at risk of some amount of flooding in 2025. In total 3.8 million properties are at risk around Australia. 


The largest number of properties potentially impacted were located in Brisbane with 211,866 (30.61 per cent) identified as facing some risk, and 47,091 (6.80 per cent) at high risk, which would make them potentially uninsurable or unaffordable to insure. 


Brisbane was one of the areas heavily impacted by recent flooding, and other areas that also experienced flooding such as Tweed, Ballina and Lismore also featured on the top 30 LGAs. 


In Lismore, around 30 per cent of properties were exposed to any risk of flooding, while in Tweed it was 46 per cent, and 48 per cent in Ballina. 


Half the properties in Melbourne were also expected to be exposed to flooding, although only 1.69 per cent were at high risk. 


The worst impacted area was Greater Shepparton, where 56.39 per cent of the 37,294 properties were considered high risk. In total 77.92 per cent faced some risk of flooding, whether that be low, moderate or high risk. 


Wangaratta was also badly impacted with 45.44 per cent at high risk, and a total of 67.15 per cent at some risk. 


Dr Mallon said climate-change fuelled riverine flooding is expected to cause a relative loss in property values around Australia of $170 billion by 2050, driven partly by rising insurance costs. 


"This is a failure in the property market if it is allowing vulnerable people to move into vulnerable properties in high risk locations," he said. 


"Instead of watching properties collapse in value, it would make more sense to invest the equivalent money in adaptation and loss prevention. 


"Planning codes must be changed, building codes need to be upgraded and a massive grants program will be needed to overhaul Australia's high-risk housing so that it is ready to cope with the reality of climate change." 
 
You can check the risk for your suburb at: 


---