What current property market trends tell us about the future of Australian real estate By Elite Agent
National home values increased by 13.5 per cent over the last financial year and in 218 suburbs across the country median house or unit values reached the million-dollar mark.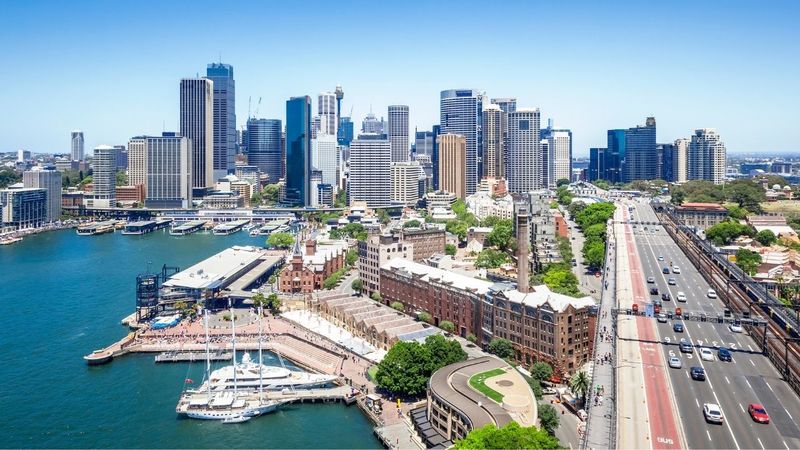 In The August Property Report, Chief Executive Officer Matt Lahood jokingly described the progress as "not bad at all", especially considering how many regions have been in and out of lockdown. 


"Over the second quarter of this year, we've had a continuation of the growth and trends we observed earlier in 2021. Our agents have seen multiple buyers interested in every property, strong competition leading to record sale prices and high auction clearance rates," Mr Lahood said. 


Adverse conditions haven't slowed the property market 


Canberra has proved itself a solid and attractive market while Perth has experienced a boom in buyer interest. 


Meanwhile, Queensland's lifestyle centres like the Gold Coast and the Sunshine Coast benefitted from strong interstate migration. 


David Price, The Agency's General Manager in Queensland, spent the first half of 2021 establishing new offices servicing Brisbane and the Gold Coast. 


"The Queensland market is going exceptionally well and we're excited about the growth and momentum we're seeing," Mr Price said. 


For Victoria, Mr Lahood noted that pent-up demand in Melbourne led to excellent results despite their multiple lockdowns. 


The Agency General Manager in Victoria and Head Auctioneer Peter Kakos explained, with prices rising over the first half of 2021, buyers were quick to realise the market had reached new heights, despite the lockdowns. 


"It shows the resilience of the market on one hand, but also the fact that lockdown was an all-too-familiar process for agents, buyers and sellers. Auctions moved briefly online, open home inspections took a more controlled form, but people just got on with their business, despite the pandemic," Mr Kakos said. 


"Sales results are still exceeding vendor expectations, but the sentiment feels a bit different now. Rather than feeling overwhelmed by the constantly increasing prices in the first quarter, buyers adjusted their
 perceptions and the prices rose in a more sustained and steady way over quarter two. 


"We are also seeing buyers prepared to compromise and jump suburbs to meet their budget." 


Sydney's property market has remained in the headlines at the same rate as the news of their lockdown restrictions. But there is still a lot of uncertainty going into the spring selling season. 


"Luckily, as a business, we'd been in this position before," Mr Lahood said. 


"Based on what we witnessed last time we came out of lockdown, and in line with global trends, we expect the market to rebound strongly from any pause it may take. 


"Added to this, we're coming into spring where we typically see an upswing in property listings and buyers. As we come out of winter, many resolve to make a move, often hoping to be settled by Christmas." 


The trends that matter: Combining strong buyer demand and low stock


One key feature of today's market is a lack of property listings. Supply or stock was down around 24 per cent in June, based on five-year averages, Mr Lahood noted. 


"Combined with very strong buyer demand, this is driving the great results we've been seeing in the property market both in the cities and regions," he said. 


"We've already seen a sharp growth in tree and sea changers driving demand in regional markets across the country. 


"We anticipate the recent lockdowns will continue to drive this activity, causing more people to reassess lifestyle goals, property included. As a result, price growth in regional markets has outpaced that of capital cities – at times by more than double – although that gap is starting to narrow as we hit mid-year." 


So, what's next?


Mr Lahood believed Australia is in a better economic position than most predicted when the pandemic first hit our shores. 


"But challenges remain, such as continued low migration and the possibility of the future tightening of lending criteria or the raising of interest rates," Mr Lahood said. 


He noted the coronavirus clusters across the country may temporarily slow the number of listings, but the vaccine rollout was now underway. 


"We expect to see the strong results and high clearance rates continue. We also believe there will be a 'rubber band' effect as the market stretches out then swings back hard in spring," Mr Lahood said. 


"While buyers may need to be persistent, and vendors need to have realistic expectations, there are many great opportunities in the national property market right now. 


"Long term, if the pace of growth continues, affordability could again become an issue and buyers should always keep in mind the impact of a rise in interest rates." 


Here is one way to save tens of thousands on costs and charges 


Real estate agents, property owners, developers, builders and investors can now present land, residential, house & land packages, commercial and business properties for Sale, Lease, Swap or Investment 100% Free. 


At SSB there are no registration costs, no listing or lead charges and no marketing fees, including zero costs for multi upload listings. 


A further value benefit significantly increases brand awareness, market reach and client capture connecting directly with buyers, investors, tenants, sellers and swappers worldwide. 


Buyers and renters benefit from the competitive savings owners and agents can pass on to you. 


SSB is not an agent, reseller or lead generator, we are an Australian owned Melbourne based FREE service providing you with an additional online channel that enhances your current marketing campaigns adding significant market reach, exposure and capture potentially  adding value to income streams by connecting you directly with owners, investors, developers and buyers. Have a look it really is 100% cost free at
https://sellitswapitbuyit.com
  (SSB). 
---