What can you buy for Australia's median house price?
By Melissa Heagney & SSB
The median house price across Australia's capital cities is now $1,065,447, and a budget that size will stretch further in some parts of the country than others.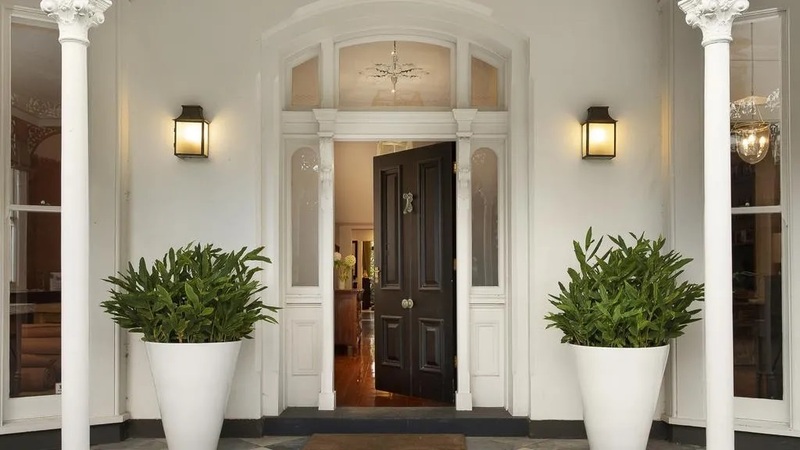 Depending on the location, and the amount of renovation required, buyers might be looking at a home just a few kilometres from a CBD, or much further afield. 


The median house price across the capital cities fell 0.9 per cent in the June quarter compared to three months earlier, but is still 10.9 per cent higher than a year ago and well above pre-pandemic levels. 


In pricey Sydney, buyers would need to travel some distance from the city centre to find a detached house on a million-dollar budget. 


In Campbelltown, a four-bedroom house with a two-bedroom granny flat at 25 Grandview Drive is for sale with a price guide of $910,000 and $975,000. 


It has been advertised as suitable for an extended family or an investor. 


A potential buyer hoping to stay close to the city might prefer to look for an apartment, such as the two-bedroom offering at 4/5 Wolseley Street, Drummoyne, asking $950,000. 


For that price, buyers get a charming 40-plus-year-old apartment and stunning views of Sydney Harbour and the CBD. 


Cobden Hayson Drummoyne selling agent Chad Egan said apartments in the block can sell for well above $1 million. 


"Wolseley Street is a popular street and this is a 1970s red brick apartment, so the demographic will be young couples and investors," Egan said. 


Though Sydney's property market is facing headwinds as interest rates rise, and the rising cost of living hits home buyers' budgets, Egan said properties priced between $950,000 and $1.1 million were still seeing good interest from buyers. 


In Melbourne, buyers can find a house on land closer to the city, if they are prepared to do a renovation. 


A three-bedroom Victorian home at 118 Farrell Street in Port Melbourne is listed for $1.05 million to $1.15 million but needs renovating. 


Chisholm & Gamon Property Port Melbourne associate director Jon Kett said the vendors had owned the property since 2010 as an investment. 


A modern five-bedroom family home at 27 Village Drive has been advertised for between $995,000 and $1.04 million. The house features an outdoor entertaining area and a heated, in-ground pool. 


Brisbane buyers can find a house close to the city centre in the low seven figures if they are open to giving their new home a facelift. 


This three-bedroom 'pink palace' at 34 Michael Street, Bulimba, features street art by the current owner and is listed for offers over $975,000. 


Just 4 kilometres from Brisbane's CBD, it includes a pink facade and illustrations ranging from a bird to a Day of the Dead, Mexican folk-art inspired piece. 


Inside, the home has a brightly decorated kitchen, but also needs some TLC. 


Ray White Bulimba selling agent William Low said buyers were still interested despite the renovation work required. 


"People are fearful of inflation and interest rates, so it is getting a little bit harder to sell properties that need renovation, but we're expecting this one to sell by the end of the week," Low said. 


Just three kilometres from Adelaide's CBD, another fixer-upper is for sale. Built in 1918, the property at 27 Cambridge Street, North Adelaide, is listed for sale with a $975,000 to $1.05 million price tag. 


The semi-detached home has a "rare" backyard for that part of the city, and a car park. 


It's not the only historic home for sale, with a 1910-built property at 83 Carlton Street, New Town, about 4 kilometres from central Hobart, advertised for offers over $1.045 million. 


The home includes some of its original stained-glass charm, has four bedrooms, and comes with stunning views. 


Some of the best views at this price point are 5 kilometres from Perth's CBD in Crawley. 


There, buyers can find a modern three-bedroom apartment at 9W/4 Crawley Avenue which has views of the Swan River from one side, and Kings Park Botanic Garden on the other. 


The apartment is listed with a price guide of $969,000 and for that money, buyers will get a renovated pad with separate laundry and a study. 


You can get free property promo postings at the
SSB
Aussie real estate platform designed to contain costs and maximise market capture for owners, real estate agents and property professionals. 
Owner, developer and investor listing on SSB supports an agents branded marketing campaigns adding an additional channel of enquiry and significantly increasing market exposure, reach and capture. 
---