Australian town of Quilpie giving away free land with $12.5k grant By Sarah Sharples
A Queensland town is helping Aussies with their home ownership dreams by giving away free blocks of lands – but there's a catch.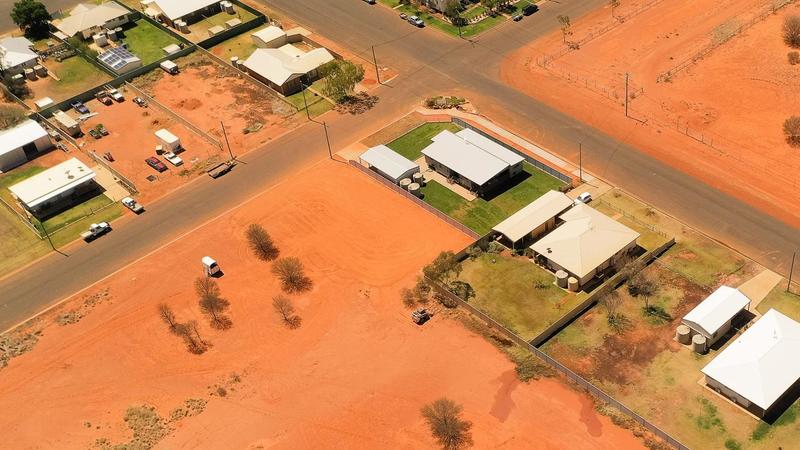 It's no secret that getting into the property market is incredibly hard with skyrocketing prices, but one region is offering hope for young Aussies. 


The outback town in the Quilpie region, which sits 1000km west of Brisbane, has a population of just 800 residents. 


Quilpie Shire Council is offering $12,500 to anyone who buys land and builds a new home that is valued at less than $750,000 and that they live in for six months. 


But with blocks of land selling for as little as $12,500, it means homeowners could basically receive the land for free. 


The area, which is famous for opal mining and dinosaur bones, includes two supermarkets, a butcher, baker, newsagents and hairdressers, as well as two schools and an early learning centre. 


While the town is crying out to fill vacancies, including for nurses and teachers, there aren't enough houses for people moving into the area. 


Quilpie Shire Council CEO Justin Hancock, spent his first six months in the town living in a retirement village, and wanted to do something about the lack of housing stack. 


"I made some great friends at the retirement village, and still drop by for a cuppa with some of the residents, but it wasn't the ideal place for me to live, regardless of how lovely the villa was," he said. 


The 30-year-old, who has lived in the town for eight months, said "you would be hard pressed to find a better deal anywhere in Australia". 


"If you're looking to retire and need an affordable home base for travel, or you're a young person starting out in your career and getting a foot in the property ladder, you would be hard pressed to find a better deal anywhere in Australia. Depending on the cost of the land chosen, it can equate to us essentially giving land away," he said. 


"We have over 10 job vacancies in Quilpie at the moment that we're hoping will attract some new younger residents to live out here and the younger demographic won't want to live in a retirement village." 


It's a great opportunity for people who have been priced out of city and coastal regions to get into the property market, he added. 


"And as we all learn to live with Covid long term we also offer a region that has remained Covid free and has an abundance of wide open spaces," he said. 


Current jobs range from a role in the local National Australia Bank, to early childcare, mechanics, bar work and more. 


"And there's also the option to come to town to establish a business with incredibly affordable opportunities in the town industrial area with internet connectivity on-par with city regions," Mr Hancock said. 


"We will also have more tourism roles in the region for 2022 so now is the time for people to start planning a move." 


Inspired by the newly the home owner grant, first time buyers 23-year-old Tom Hennessy, a technical officer at Quilpie Shire Council and 24-year-old Tessa McDougall, who moved to town from Brisbane to take up a teaching role have just purchased a block of land in Quilpie. 


"There's probably not a lot of people our age who are getting into the property market – but it's so affordable in Quilpie, and even more so with this great land grant, and we're confident it's going to be a great investment for our future," Mr Hennessy said. 


"Tessa has friends and family in Brisbane who are struggling to get into the property market so we feel very fortunate to be able to do this now. 


"We're also hopeful that other young people will look at the job opportunities out here along with these great property deals and make the move to Quilpie. It's a great lifestyle and small town vibe, there's no crime and everyone is pretty laid back. And Covid really hasn't touched Western Queensland." 


Mayor Stuart MacKenzie said they need to be able to offer good housing options to attract people to the region for the jobs on offer. 


"We had a painter move here temporarily for a short term project and he's booked solidly for the next twelve months and is moving more permanently to the region," he said. 


"We need people like this to come work in our region, and yet we don't have enough housing to accommodate them ... Within Queensland we already have easy scope for people to move out to Quilpie, and we're confident that interstate borders will re-open and allow freer movements between the States in the months to come." 


In addition to encouraging new land purchase and building in the region Council is also redeveloping the depot in Quilpie into a total of forty two to three bed townhouse villas. These will add to the current 46 council-owned housing properties that are sitting at 100 per cent occupancy. 


Meanwhile, thousands of Victorians could soon become first-time homebuyers, but there are strings attached 


The state government has announced it will cover a quarter the cost of new homes in exchange for a share in the property, with new home buyers only needing five per cent of the deposit to secure a property. 


The $500 million Victorian Homebuyer Fund is expected to support around 3000 new homebuyers in the state, by reducing the amount of money needed for buyers to enter the market, as well as ease the pressure of lenders mortgage insurance. 


Buyers can choose to pay back the state, or when selling the property the government will have it equity returned to it. 


Here is one way to save tens of thousands on costs and charges 


Real estate agents, property owners, developers, builders and investors can now present land, residential, house & land packages, commercial and business properties for Sale, Lease, Swap or Investment 100% Free. 


At SSB there are no registration costs, no listing or membership charges and no marketing fees, including zero costs for multi upload listings. 


A further value benefit significantly increases brand awareness, market reach and client capture connecting directly with buyers, investors, tenants, sellers and swappers worldwide. 


Buyers and renters can benefit from the competitive savings owners and agents can pass on to you. 


SSB is not an agent, reseller or lead generator, we are an Australian owned Melbourne based FREE service providing you with an additional online channel that enhances your current marketing campaigns adding significant market reach, exposure and capture potentially  adding value to income streams by connecting you directly with owners, investors, developers and buyers. Have a look it really is 100% cost free at
https://sellitswapitbuyit.com
  (SSB). 
---