Aussie housing boom ranks seventh in the world By Aaron Bell
A new report from independent real estate consultants Knight Frank has listed Australia seventh amongst the world's fastest rising property markets.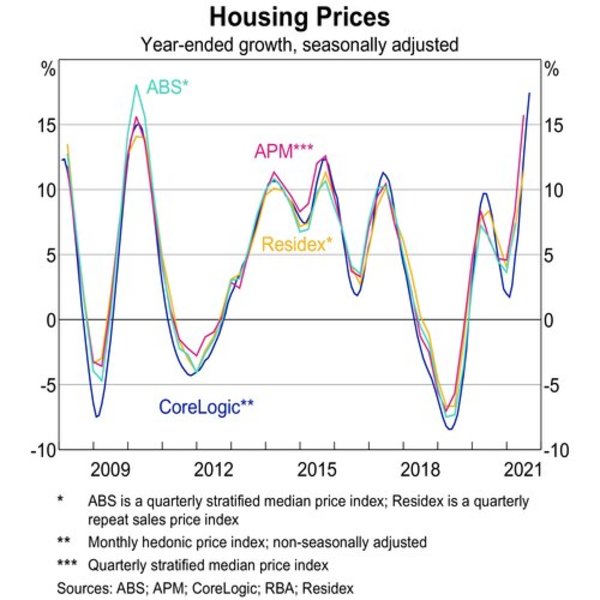 Australia's housing market boom has been well documented throughout the pandemic, but insights from international agency Knight Frank puts it into perspective. 


The report focused on the second quarter of 2021, and evaluated annual price growth of 55 different countries. 


Australia was outpaced, in order, by: Turkey, New Zealand, United States, Slovakia, Sweden, and Luxembourg. 


It should be noted annual inflation in Turkey hit 19.25% in August. 


Australia's property price growth of 16.4% for the year ending in June puts the annual pace at its most rapid since 2003 and the average house price at its highest since 2009.  


Australia is up from 18th position in the previous quarter 


Michelle Ciesielski, Head of Residential Research at Knight Frank Australia, said that the growth is consistent across all of Australia. 


"Analysis of the Australian residential market often acknowledges inconsistencies from city-to-city, but currently we are seeing consistent double-digit annual growth in each capital city, although underlying factors do differ as you dive into each market," Ms Ciesielski said. 


"A comparison at the end of June 2021 revealed that every capital city in Australia recorded an upward trajectory in annual sales volume, with a 30% average, whilst the number of days a property was listed on the market has fallen by 24% over the past year. 


"This is equivalent to having almost a month (29 days) shaved off the average Australian property listing. 


"We are experiencing more activity in the smaller capital cities driving up this Australian residential growth." 


The report highlights the pandemic-induced housing boom continues to be a global trend, with prices rising by 9.2% on average across 55 countries and territories in the year to June 2021. 


In total, 18 markets registered double-digit price growth, up from 13 last quarter and seven countries a year ago. 


The report emphasised the consistent impact of low interest rates in many of the countries featured. 


Globally, house prices are growing at their strongest rate since 2005. 


An Introduction to SSB a new free Australian real estate service to save tens of thousands 


Introducing a new Australian property service providing a secure self-managed platform enabling property Owners, developers and agents to save tens of thousands. 


There are no registration fees, no marketing costs, no listing fee's and zero lead charges. It really is Free including for XML auto multi listings via your preferred CRM provider. 


Private owner sellers get Free listings and direct connection to pre-qualified searchers and can save tens of thousands when sellers pass on the huge savings. All prices are shown up front. 


You get 24x7 access to your property listings and can edit the content, pics, videos, price and viewing dates. All inquiries from pre-qualified searchers go direct from the searcher to your nominated personal email Inbox. 


SSB is not an agent, reseller or lead generator, we are an Australian owned Melbourne based FREE service providing you with an additional online channel that enhances your current marketing campaigns adding significant market reach, exposure and capture potentially  adding value to income streams by connecting you directly with owners, investors, developers and buyers. Have a look it really is 100% cost free at
https://sellitswapitbuyit.com
  (SSB). 
---