Treechange or seachange? From the Sentinel
No doubt many people look out from the Kilcunda main car park and wonder what it would be like to wake up on holidays from one of these park units.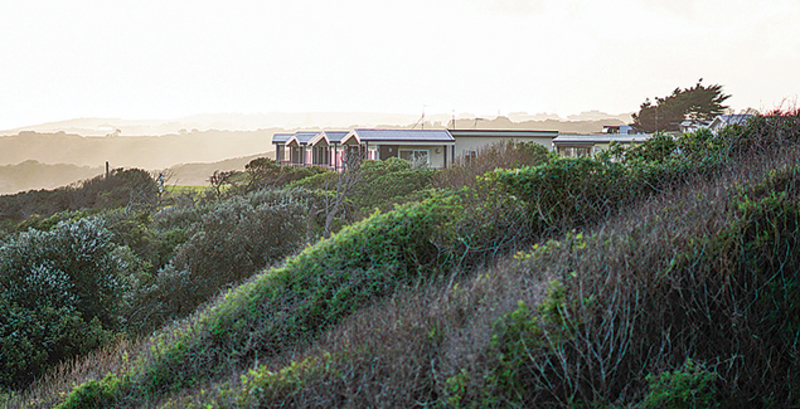 THE COVID-19 pandemic helped to accelerate the phenomenon of homeowners being able to work remotely across Australia and they are spoiled with property lifestyle options to choose from – the beach and the bush. But which has performed better in terms of capital growth over the past year? 


"We have experienced a clear increase in enquiries from regional property buyers, and that has been reflected across all states and territories, and includes both sea and treechanges," Pete Wargent, co-founder of national property buying company BuyersBuyers.com.au, said. 


"But when it comes to which has been the most popular choice of all, there's no question that the coast and the water have been a major drawcard for Aussies over the past year. 


And the sea change locations have, on average, seen comparably higher rates of price growth to reflect that," Mr Wargent said. 


"That having been said, there are plenty of inland markets that have been firing too, there's no question about that." 


Risk wise Property Research ran the data to identify the suburbs where prices have spiked over the past year. 


Doron Peleg of Risk wise Property Research noted: "As you might expect, suburbs such as Byron Bay and Sunshine Beach have performed exceptionally strongly over the past year, recording dramatic price growth for detached houses." 


Mr Wargent said water views had always been a great scarcity value in Australian property, and demand for these properties had been exceptionally strong over the past year. 


He said some inland markets had also benefited directly from regional moves away from the capital cities over the past year. 


"Mittagong and Orange in New South Wales are two examples of markets where rentals have been very tight away from Sydney, and the surge in demand has pushed properties prices higher, while asking rents have exploded. 


"Locations offering an attractive lifestyle from those opting to work from home more often, such as Buderim on the Sunshine Coast, have also fared well," Mr Wargent said. 


Risk Wise CEO Doron Peleg said the onset of COVID-19 changed the way Australians worked as a nation with increasing numbers working from home, a trend likely to be sustained beyond 2021. 


"Australians who have had more of a taste of working from home over the past year are now able to continue to work remotely and often we are seeing that it's these buyers who are now seeking lifestyle properties and avoiding higher density locations." 


"The past 18 months have helped strengthen 'work from home' opportunities, meaning owner-occupiers can take advantage of 'lifestyle' prospects instead of being so closely tied to employment hubs," Me Peleg said. 


Mr Wargent said: "Even well before the pandemic, there was certainly a trend of homebuyers looking for the best of all worlds lifestyle, accessibility to employment hubs and more affordable housing. These include areas of southeast Queensland such as the Sunshine Coast and the Gold Coast, and on the northern New South Wales Coast. Then there's also [areas] such as the Mornington Peninsula." 


Mr Wargent said beachside suburbs had especially outperformed the market as they offered such fantastic lifestyle opportunities. 


"In fact, many investors consider both sea and tree change areas to be 'investment destinations' in which to achieve strong capital growth," Mr Wargent said. 


"One thing to note, however, is that regional affordability has deteriorated in many cases since early 2020, and when the international borders reopen, the popularity of capital city will ultimately reassert itself," Mr Wargent said. 


Risk Wise has also undertaken an analysis of popular tree change and sea change areas to determine which markets have performed better over longer time periods. 


"The results showed that over the past five years, sea change areas delivered more than double the price growth than tree change areas," Mr Peleg said. 


A new way to Buy, Sell, Lease and Swap regional and rural property 


A recently launched Australian real estate promotion service saves rural and regional property sellers, owners, developers, investors and agents tens of thousands of dollars providing a secure self-managed online platform free of all fee's costs, and charges to present rural property profiles for land, farm, life style, commercial and regional business properties for Sale, Lease, Swap and Buy globally, at zero cost. 


SSB is a 100% free Australian owned and operated service that has no registration or membership fees, no marketing costs, no listing fee's and zero charges including for agents to multi-XML listing it also connects sellers, buyers, lease holders and rural investors direct. 


Importantly listing with SSB you have full control of your and can edit the content, pics, videos, price and availability 24x7. Best of all inquiries from pre-qualified searchers go direct from the searcher to the listers nominated email Inbox. 


Buyers, investors and renters can be confident that properties listed with SSB have accurate details with the is price displayed upfront making sellers super competitive that gets you direct connected with the decision maker for viewings, negotiations and getting the deal done. 


SSB is not an agent, reseller or lead generator, we are an Australian owned Melbourne based FREE service providing an additional online marketing channel that enhances sales and marketing campaigns adding significant market reach, exposure and capture potentially  adding value to income streams by connecting owners, agents, investors and buyers. Have a look it really is 100% cost free at
https://sellitswapitbuyit.com
  (SSB). 
---