New report says the future of South East Queensland property isn't Brisbane By Aaron Bell
A new housing outlook report predicts both the Gold Coast and Sunshine Coast are on track to outpace Brisbane property prices by 2024.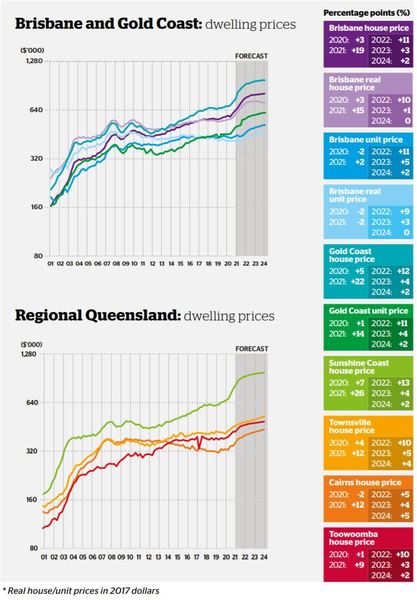 QBE's Australian Housing Outlook 2021–2024 prepared by BIS Oxford Economics shows the future of Queensland's residential property market is coastal. 


CEO of QBE Lenders Mortgage Insurance, Phil White, said the pandemic has influenced the future of residential property. 


"A key theme of the report is the change to migration patterns," Mr White said. 


"With Australia's international borders effectively closed, the usual influx of international migrants and outflow of Australians is not having its usual impact on the housing market. 


"And while cities have long been the centre of commerce and community, many of us made the decision to leave cities for regional towns. 


"This shift in housing preference will be interesting to watch over the next few years." 


QBE Housing Outlook Estimates 


Location               Median House Price June 2021 | Estimate Median House Price by 2024
Brisbane              $684,000                                  $806,000
Gold Coast           $815,000                                  $915,000
Sunshine Coast    $830,000                                  $986,000
 
Brisbane 


The greater Brisbane median house price was $684,000 at June 2021, a 19% rise on a year earlier according to BIS Oxford Economics' research. 


As price momentum slows and the prospect of rising interest rates loom, QBE said they expect that the pace of growth in most markets will fall. 


Despite large gains in the past 18 months, Brisbane will remain relatively affordable when compared to Sydney and Melbourne, and the expected sustained interstate migration will help prevent a sharp slowdown in momentum in 2022/23 and 2023/24. 


QBE's report predicts a median house price of around $806,000 is expected by June 2024, representing total three-year growth of 18%. 


Gold Coast


While powered by the uptake in remote working and extremely low interest rates in 2020/21, interstate migration will continue to fuel dwelling demand in the Gold Coast. 


The median house price on the Gold Coast grew rapidly in 2020/21, rising by 22% to $815,000 in June 2021. 


QBE predicts median house price growth is expected to continue its rapid growth and rise by 19% over the three years to June 2024, taking the median house price to $915,000. 


Recent Domain data shows Surfers Paradise was the number one suburb in Australia for property turnover in the last year, with Southport and Broadbeach also making the top 20. 


Sunshine Coast 


Migration numbers to the Sunshine Coast paused briefly during 2020 as interstate borders were closed, however have now returned as remote working has grown. 


In June 2021, the median house price in the Sunshine Coast was $830,000. 


QBE expects these trends of brisk population growth to persist into 2021/22, so long as the freeze in interstate arrivals into Queensland is short lived. 


As a result of reduced travel restrictions and continued attractive borrowing conditions, the median house price in the Sunshine Coast is forecast to continue to slightly outgrow price growth in Brisbane. 


QBE's report predicts prices to grow by 13% in 2021/22, before slowing slightly in the next two periods, reaching a median price of $986,000 by June 2024. 


No longer the 'little siblings' of Brisbane 


PRD chief economist Dr Diaswati Mardiasmo said the Sunshine Coast and Gold Coast are benefiting from changed attitudes towards work and lifestyle. 


"Sunshine Coast have historically been a 'little sibling' to Gold Coast and Brisbane, in terms of property related attention and interstate property investment," Dr Mardiasmo told Savings.com.au. 


"Living in Gold Coast or Sunshine Coast with a job in Brisbane used to be a daunting aspect, however now it is becoming the norm. More business movement between the three local councils is enabling those who feel priced out of Brisbane to move to untapped areas in Sunshine Coast and Gold Coast. 


"It is not a surprise that there is an demand and supply imbalance at present, which is more prevalent in the Sunshine Coast, especially when it comes to ready-to-sell stand alone houses/dwellings – there is a stark difference here." 


Recent research shows over the past five years the Gold Coast in particular has recorded double digit median price growth for both units and houses. 


'Middle ring' houses had the strongest growth, up 32.5%, however the Gold Coast still presents strong affordability compared to other cities on the east coast. 


For the Gold Coast's middle ring, 30.7% of homes fell under the $699,999 price bracket, while 28.8% of inner-ring suburbs fell within this price band. 


"I find it fascinating that the Gold Coast is the only major city house market - compared with Sydney, Brisbane, Melbourne, Perth, Hobart, and Canberra - that has equal opportunities, in both inner and middle rings, in the most affordable price brackets," Dr Mardiasmo told Savings.com.au in September. 


"It looks like Gold Coast first home buyers could be the luckiest among other first home buyers across the country, at capital city level." 


The 2021 median sale price for inner-ring suburbs was $825,000, while for middle-ring suburbs it was $888,000 - the first time the middle ring has outpaced the inner ring in five years. 


Gold Coast's middle and inner ring suburbs: 


Middle ring suburbs: 


Broadbeach, Broadbeach Waters, Carrara, Clear Island Waters, Coombabah, Gaven, Helensvale, Highland Park, Hollywell, Hope Island, Mermaid Beach, Mermaid Waters, Merrimac, Nerang, Pacific Pines, Paradise Point, Robina, Worongary. 


Inner ring suburbs are: 


Arundel, Ashmore, Benowa, Biggera Waters, Bundall, Labrador, Main Beach, Molendinar, Parkwood, Runaway Bay, Southport, Surfers Paradise. 


Being aware of what is happening in the market can save you thousands 


Being up to date and aware of what is going on in the Australian property and the local economy is critical for your decision making whether you are selling, buying, swapping or want to rent a new property find it fast and easy at SSB. 


Buyers, investors and renters can be confident that every property listed with SSB has accurate details and the asking is price clearly stated upfront making sellers super competitive and, you get direct contact with the decision maker for viewings, negotiations and getting the deal done. 


For owners, agents and developers listing their properties for Sale, Rent or Swap with Aussie free online service
https://sellitswapitbuyit.com
  (SSB) they get global market reach and capture, brand exposure, enhanced income streams and prequalified searchers and direct connection at zero cost. 
At SSB there are no monthly or annual registration fees, no listing charges and no marketing costs, the average saving is $27,500. It's 100% Free including for XML auto multi listings for agents. 


SSB is NOT an agent, reseller or lead generator, we are an Australian owned and based free real estate service supporting the Australian property industry. Have a look
https://sellitswapitbuyit.com
. 
---