How Canberra's COVID-19 lockdown is impacting the capital's property market By Isaac Nowroozi
Cracking into Canberra's property market was already a struggle, but the current lockdown has made buying a home even more difficult.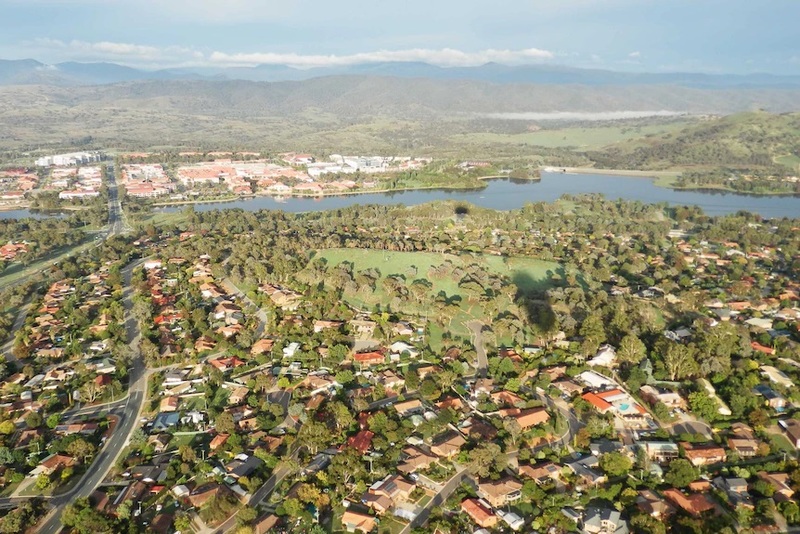 From yesterday, lockdown restrictions relaxed for real estate companies, who are now allowed to have one person attend a property to conduct building inspections, film or take photographs to help progress a sale. 

But while some movement in the market is good news for Canberrans trying to sell, buyers will have to take more risks than usual. 

What does buying and selling in lockdown look like? 

It is estimated that more than 350 properties were unable to be listed over the first two weeks of Canberra's lockdown. 

"Over the past four weeks we have seen the new listings count across the ACT fall by 16 per cent," CoreLogic's head of Australian research Eliza Owen said. 

"In the auction market, we have seen fewer properties actually going to auction and more properties being withdrawn altogether." 

But while yesterday's changes mean that many homes can now be listed for sale, experts warn not to expect a sudden influx of properties on the market. 

"[There is] resistance from some people to put their property on the market for some time until they feel that it is safe to do so," Total Property Management director Craig Bright said. 

"We certainly see a tight market continuing in both rentals and sales and that will probably occur until the end of next year at least." 

And if sellers are apprehensive to put their homes on the market, many buyers are likely to be even more nervous. 

Physical and individual virtual inspections are still not permitted — so buyers will have to pull the trigger before even stepping foot into their new homes. 

But it seems it is a risk that many may be willing to take. 

Ms Owen said with a low level of housing stock in Canberra and prices across the city continuing to rise, taking a risk was the only option for many would-be buyers. 

Could the lockdown bring down prices? 

Unfortunately for buyers, the current lockdown is unlikely to reduce house prices in the capital. 

The annual median price in most Canberra suburbs rose by more than 20 per cent from 2019 to 2021 and there has been a rise in prices every month since April 2019. 

"I would expect property prices to keep rising through this period," Ms Owen said. 

"You are not getting a big influx of supply and that is typically what would put downward pressure on prices." 

Mr Bright agreed, saying there had been a substantial shortage of stock in Canberra since before the COVID-19 pandemic. 

"If these properties are marketed, that is not going to make a massive dent in supply," he said. 

"From what I can see in data there is still a pent-up demand there for people wanting to buy a property." 

Virtual auctions a popular alternative 

Homes that have been on the market during the lockdown have been selling, with many agents reporting a 100 per cent virtual auction clearance rate. 

Australia's preliminary clearance rate dropped to its lowest level in more than a year last year, but Canberra bucked the trend with a clearance rate of nearly 80 per cent. 

"The clearance rates on virtual auctions have been very high and a lot of those have been to purchasers who have been unable to physically inspect the property," Mr Bright said. 

Online auctions have been so popular, that some agents have taken the "highly unusual" step of requiring prospective bidders to put $1,000 into a trust account before they are allowed access to the auction — a move designed to reduce the number of "nosey neighbours" or other parties who are simply there to watch the show. 

The practice also occurred during last year's lockdown, to help filter out serious buyers from the "sticky beaks" in a crowded virtual room. 

"If it was an open link you could end up with a huge number of people," Mr Bright said. "It is very hard for the auctioneer to decipher or keep track of genuine bids in those circumstances." 


HOW TO VIEW PROPERTY SAFELY IN THESE CHALLENGING TIMES


Property viewings are beginning to resume bringing relief to home-movers around the country.
 However, your health and safety remains our top concern at this time here are a few of simple suggestion based on government guidelines to reassure you when going on property viewings or allowing others into your home for viewings. 


If you're a buyer or renter going on viewings: 


You've no-doubt been keenly waiting for weeks to go and view properties you've had your eye on and now you can begin. 


Follow simple guidance to ensure your viewing goes as smoothly and as safely as possible:
 Protecting yourself, those in the property you're viewing and of course the agent conducting the viewing 


Why not start with an online viewing, if available?
You'll still need to view the property in person, before being able to proceed with an offer, but it's a great place to start. Particularly helpful if you're not entirely sure whether it's suitable for you, it's also one less journey you'll need to make. If you'd still like the view the property, the agent will be pleased to know you're serious. 


Before the in person viewing
In line with government guidance, anyone experiencing coronavirus symptoms should go to your nearest Covid testing centre to be checked or at the very least staying at home and self-isolating to help prevent further spread of the disease.
To give confidence to all parties present at the viewing that this guidance is being followed, and to help the agent manage the viewing in the most efficient safest way possible, you should be asked to complete a handful of questions before your viewing such as: 


1.      Has anyone in your household had COVID-19 
2.      Has anyone in your household displayed COVID-19 symptoms or not yet completed a required period of household self-isolation 
3.      Are you in the high-risk category 
4.      Have you recently returned from a trip interstate or overseas 


The current owner, or tenants, of the property you're going to view should have also completed these questions, as will the agent if they'll be present on the viewing, so don't be afraid to check with the agent on this if it's a concern.
 We also recommend asking the agent as many questions as possible before the viewing, to help save time in the viewing property itself. 


Create your own 'viewing kit' to get the most out of your viewings: 


1.      Anti-bacterial hand sanitiser or a small bar of soap in a resealable bag and some paper hand towels or a small towel. This will ensure you can clean your hands both before and after the viewing 
2.      A face mask – not an essential but recommended. It will show politeness to the agent and current owner that you have considered them. Especially useful if you're currently suffering from hayfever, and therefore prone to sneezing, or travelling by public transport. The government have released details on how to make your own here 
3.      Disposable gloves – not an essential, but a good idea if you're worried about touching anything accidentally (especially if you've had to travel by public transport) 
4.      Viewing Checklist – Print-out or save a copy of our renter checklist or buyer checklist – they contain all the key questions you'll need to ask 
5.      Something to write with – be it a pen, pencil or your phone, you'll want to jot down the answers to your questions and make notes 
6.      Your phone – not only so you can contact the agent if you need to, but also so you can take photos if you have the permission of the owner or an alternative make notes if you do not have a note pad and pen 


Travelling to and from viewings 


We want you to be more excited than stressed right now, so follow our top travel tips for a smooth, and safe, journey: 


1.      Wherever possible, use your own transport (i.e. car, motorcycle or bicycle) or, if it's a walkable distance, consider this as an option 
2.      If you're planning to drive to a viewing, think in advance about parking. Let the agent know in advance so they can advise you on where's best to park as it's not always obvious, especially if you don't know the area 


Check that public transport is available as it is still essential for many of us, especially in big cities. When booking the viewing, let the agent know so that they can help you book a viewing time outside of peak travel hours (07:00 – 09:30 and 16:30 – 18:30)
 Show up on time. Agents will need you to arrive at your viewing at the time you've agreed, not earlier and not later. This is to help minimise the number of people gathering near the property. 


Whether it's on your way to a viewing, or once you get there, remember these four key pieces of advice from the government: 


1.      Maintain a 2m distance from anyone you aren't living with – we know this can be tough at times, but it's possible. If you ever forget what 2m looks like, imagine taking two long strides, or visualising the height of your front door 
2.      Wash your hands regularly (and thoroughly) and avoid touching your face – we've all got the dry hands to prove it, but this remains one of the most important pieces of guidance right now to help prevent the spread of coronavirus 
3.      Minimise contact with surfaces outside of your home – this can be hard as we touch so many things throughout the day, often without thinking about it. Common things include door handles, lift buttons and 'stop' buttons on the bus 
4.      Cough or sneeze into the crook of your elbow always, and do not drop used tissues anywhere, put them in the nearest bin or take them home to dispose of please. 


At the viewing 


For the duration of the viewing, you will need to be mindful that this is someone's home treat it with respect and follow the social distancing guidelines.
 Being armed with all the questions you still need to ask at the viewing, bring your notes, it  will be more important than ever to ensure you're getting the most out of the viewing. 


A bottle of water – In case you get thirsty, and always advisable in warmer months. You won't be able to accept, or ask for, one on a viewing so useful to have in your bag

If you're a vendor letting people into your home for viewings
Over the coming weeks your agent will be busy booking in prospective buyers who've asked to view your property.
Follow our simple guidance to ensure each viewing goes as smoothly as possible protecting the members of your household, those at viewings and of course the agent. 


Ahead of each viewing, each prospective buyer will have also been asked to complete these questions, as will the agent if they'll be present on the viewing. Don't be afraid to check with the agent that this has happened if it's a concern. 


Preparing for the viewing
Most of us will have given our homes a good deep clean before opening the doors to prospective  buyers, as part of wanting it to look its best and attract a buyer. Now is no different, so use it as an opportunity to give everything a good clean before viewings start. 


As much as you'll not want the strangers in your home touching door handles etc, they will feel the same. If your agent is doing the viewing on your behalf, they should be opening all doors, cupboards etc alternatively giving those viewing disposable gloves to wear at the viewing. If you're doing the viewing, we advise you take the same approach as it will help you keep track of what you'll need to clean afterwards. 


To help minimise the number of people in your home at any one time, it may be required for you and your household to leave while the viewing is taking place, make sure you have a safe nearby place to go.
 We would recommend discussing this with your agent before any viewings so that, together, you can work out a sensible plan that works for everyone. 


When preparing for a viewing, follow our checklist to help it go smoothly:


1.      Clean items and/or areas that are likely to be touched (i.e. door handles, doorbells) with an antibacterial cleaner both before and after the viewing has taken place 
2.      Open windows to boost ventilation prior to the viewing taking place 
3.      Open internal doors, loft hatches, and anything else you think may be of interest, ahead of the viewing to minimise any unnecessary contact 
4.      If possible, provide hand sanitiser by your front door so that the agent and viewers can clean their hands when they enter and leave your home 
5.      Have a plan of where you can go while the viewing is taking place if you need to. 


After the viewing
Once the viewing has finished, the agent may want to spend a couple of extra minutes with you, perhaps going through any feedback or comments with you. If you have an outdoor space that allows you to distance yourselves more easily, feel free to take the conversation outside, or ideally minimise physical meetings and book a follow-up video call.
They may have just found you a buyer, but don't be tempted to shake hands!
Once the agent has left, you'll want to wipe down any door handles, cupboard doors etc that were touched on the viewing, with an antibacterial wipe or spray, and wash your hands. 


Remember
Be safe, keep others safe and be market alert, being up to date and aware of what is going on in the Australian property and the local economy and covid regulations is critical for your decision making whether you are selling, buying, swapping or want to rent a new property find it fast and easy at SSB. 


At SSB there are no registration fees, no marketing costs, no listing fee's and zero lead charges. It's 100% Free including for XML auto multi listings via your preferred CRM upload provider. 


Buyers, investors and renters can be confident that every property listed with SSB has accurate details and the is price displayed upfront making sellers super competitive and, you get direct contact with the decision maker for viewings, negotiations and getting the deal done. 


For owners, agents and developers listing their properties for Sale, Rent or Swap with Aussie free online service
https://sellitswapitbuyit.com
(SSB) they get global market reach and capture, brand exposure, enhanced income streams and prequalified searchers and direct connection at zero cost. 
---