Aussie housing market 'past its peak' By Aaron Bell
New data shows house price growth and sales are easing with building approvals falling, and property professionals are reportedly losing confidence.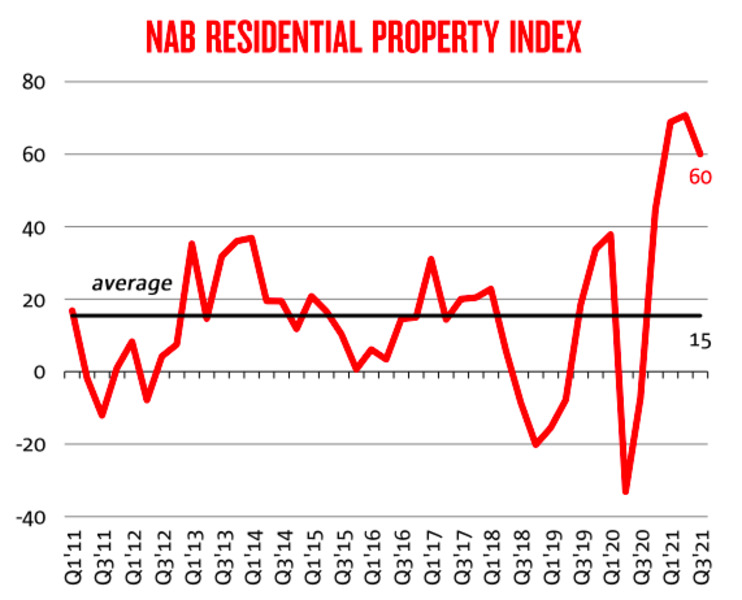 The NAB Quarterly Australian Residential Property Survey Q3 2021, has shown a decrease in confidence from industry professionals. 


The report from NAB stated that, "the survey is also pointing to a market that has passed its peak rate of growth after the COVID led dip in 2020." 


The survey measures the industry's view on housing prices and rents, and found sentiment has dropped to 60 points in the third quarter after hitting a record of 71 points in the previous quarter. 


Established Property 


In the established housing market, lack of stock is the biggest constraint buyers face. 


The next biggest constraint impacting buyers was the rising price of houses, with this issue being the most prevalent in NSW. 


In Victoria and NSW, employment security was also a significant constraint, impacted by lockdowns and restrictions. 


Foreign Investors 


Foreign buyers were slightly more present in the market in Q3 than previous reports from NAB in the last year. 


During the September quarter, property professionals estimate the overall share of total sales to foreign buyers lifted to 4.4% (the highest in 12 months) in new property markets and 2.2% in established housing markets. 


The highest percentage of foreign investors were seen in Victorian (5.6%) and QLD (5.0%) housing markets. 


These numbers are still well below averages of 12.9% and 11.2% respectively. 


Rental Markets 


Over the next 12 months, the survey average predicts rents to increase by 3.1%. 


House prices are expected to outpace rents, before leveling out to a similar pace in two years' time. 


Migration from locked down states has seen a shift in the rental landscape in the past twelve months, with Melbourne now offering the cheapest rent for houses in any capital city. 


This has led to record rental prices for Brisbane, Adelaide and Darwin, with NAB's latest projections indicating this may continue. 


Here is one way to save tens of thousands on costs and charges 


Real estate agents, property owners, developers, builders and investors can now present land, residential, house & land packages, commercial and business properties for Sale, Lease, Swap or Investment 100% Free. 


At SSB there are no registration costs, no listing or membership charges and no marketing fees, including zero costs for multi upload listings. 


A further value benefit significantly increases brand awareness, market reach and client capture connecting directly with buyers, investors, tenants, sellers and swappers worldwide. 


Buyers and renters can benefit from the competitive savings owners and agents can pass on to you. 


SSB is not an agent, reseller or lead generator, we are an Australian owned Melbourne based FREE service providing you with an additional online channel that enhances your current marketing campaigns adding significant market reach, exposure and capture potentially  adding value to income streams by connecting you directly with owners, investors, developers and buyers. Have a look it really is 100% cost free at
https://sellitswapitbuyit.com
  (SSB). 
---